Google has signed its first Power Purchase Agreement (PPA) in Ireland.
The company this week announced it had signed an agreement with Power Capital Renewable Energy for 58MW of new-to-the grid capacity from the Tullabeg Solar Farm.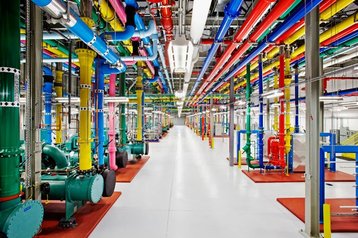 "This agreement will enable the construction of a new renewable energy project. It will add new renewable energy to the grid that our offices and data center run on, contributing to the decarbonization of Ireland's electricity system and of our operations," the company said.
Located in Tullabeg outside Camolin, County Wexford, the solar project will span 246 acres and have a peak capacity of 81.62MW.
The search and cloud firm predicts that once operational, this PPA will help its offices and data center in Ireland to reach 60 percent carbon-free energy in 2025 when measured on an hourly basis.
"I am very excited to share Google's first renewable energy purchase agreement with Power Capital Renewable Energy in Ireland. Thank you to everyone who made this transaction happen!" Ainhoa Anda, senior lead for energy strategy at Google, said on LinkedIn.
In its own post, Power Capital added: "We are delighted to announce that Power Capital Renewable Energy and Google have successfully concluded a 14-year power purchase agreement (PPA). Google will purchase part of the output from the solar farm in Wexford which Power Capital is currently constructing."
The company continued: "The facility will cost over €50 million ($53.7m) to build and targeted energization this year. Production from the 83MW solar farm will provide 54MWh of clean energy to the tech giant from 2024. All power produced by the plant will be traded by Erova Energy."
2023 has seen Google sign a number of PPAs as it looks to shift from blanket off-setting to 24/7 energy matching.
In Europe, the company has signed PPAs with EDPR in the Netherlands, as well as with Luminus in Belgium and Eneco in the Netherlands.
In the US the company has signed another solar deal with EDPR totaling 650MW as well as with Ørsted in Texas, Sol Systems for projects in North & South Carolina, and Apex Clean Energy in North Carolina.
Microsoft and Amazon have previously signed PPAs to cover their Irish operations.
Founded in 2011, Power Capital Renewable Energy has a solar project pipeline totaling 1.2GW. It previously signed a PPA with Microsoft.