Immersion cooling specialist GRC has launched a program to allow users to choose what fluids to put in its tanks.
GRC will validate a range of dielectric fluids for use in its immersion systems, which are used in data centers to provide efficient liquid cooling for high-density electronics. The program is branded under the name of GRC's in-house proprietary fluid - ElectroSafe.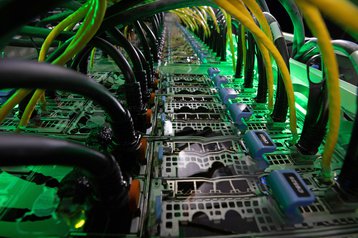 "The ElectroSafe Partner Program starts with providing fluids that are globally available and meet technical and environmental standards throughout the lifecycle of the data center," says GRC CEO Peter Poulin. "Together with our partners, data center operators choose immersion cooling solutions to improve energy efficiency, cooling capacity, and reliability."
The program will give operators more choice with a variety of fluids validated for material compatibility, performance, and safety.
Immersion cooling systems have generally been a small niche in data center deployments, but are becoming more widespread, particularly in energy-hungry crypto-mining facilities, which generate a lot of heat that has to be removed.
With this increase comes a demand for more cooling fluid, and also a choice of fluids to fill or top up cooling tanks. Among the new contenders are Castrol, which is working with GRC's competitor Submer, and food giant Cargill, which has produced a plant-based immersion fluid, that is reported to have less environmental impact and be easier to handle since it can be cleaned with soap and water.
GRC says its validation program will help users navigate the choices and potential supply chain issues, and pick a fluid that meets their requirements for price and availability. GRC, along with Cargill and others, is taking part in an Open Compute Project (OCP) immersion cooling specification, led by Intel.
GRC says all the fluids under the ElectroSafe program will be single-phase fluids designed to remain in a liquid state during use. They will not decompose over time and don't need to be replaced nor present any health risks from exposure and inhalation. They are readily biodegradable and can be recycled and reused.
The company says its immersion cooling systems are optimized for ElectroSafe-validated coolants, and promises to collaborate with fluid providers to develop the fluids of the future, promising: "There is an ElectroSafe coolant that meets the needs of virtually every computing environment."