Norwegian company Green Mountain has been granted government clearance to build a data center campus for TikTok.
However, more stringent regulations on data centers could soon be introduced in Norway.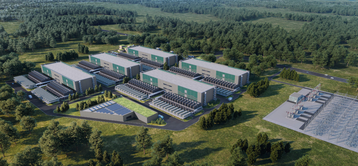 In March 2023 Green Mountain announced that it would build three buildings with 90MW of capacity in the Hamar region by November 2023 for the social media firm, with the option to extend capacity by up to 150MW by 2025.
"Today Green Mountain finally received approval from the government with regard to the TikTok data center establishment in Norway," Green Mountain CEO Svein Atle Hagaseth said on LinkedIn this week. "The Norwegian authorities have evaluated this from a security perspective and concluded that there will be no objections to the establishment. We are happy with the conclusion and it is in line with what we expected as our security policies, quality, and transparency are paramount."
He added: "The added positive of this is that Green Mountain will be better regulated from a security perspective as the first data center in Norway under the Norwegian Securities Act, meaning that there will be continued increase and focus on security, further enhancement of our policies through audits and that our data centers will be part of the core critical infrastructure in Norway."
European TikTok user data will begin to be stored locally in the company's first of two Dublin data centers from this year. TikTok separately has the Oracle-cloud-based 'Project Texas' initiative in the works to store US data locally, as it faces increasing scrutiny from American lawmakers.
Minister for Municipalities and Districts Sigbjørn Gjelsvik said: "The government has carried out thorough security assessments in connection with the fact that Green Mountain has entered into an agreement with TikTok as the only customer in the planned data center facility in Hamar and Løten municipality. We have not found grounds for intervening in the agreement itself, but I will subject Green Mountain to the Norwegian Security Act by decision."
Some Norwegian political parties were critical of the decision. Rødt (The Red Party) said the decision showed poor energy policy. A party spokesperson said: "Here the government disappoints greatly. We need electricity for emission cuts and new industrial workplaces that create goods we need, not for cat videos and other unnecessary things, such as TikTok."
SV(The Socialist Left Party) said: "It is absolutely incredible that the government has not made sure to set strict enough requirements for who can connect to the electricity grid. Something that could put a stop to us using our power on TikTok instead of emissions cuts and jobs."
Norwegian ammunition company Nammo in March claimed it was unable to expand its factory because the new TikTok data center had taken up the available surplus power.
The Norwegian Security Act subjects companies to foreign direct investment (FDI) screening to ensure foreign influence doesn't impact Norwegian security or sovereignty.
Green Mountain will reportedly receive security advice and guidance from the authorities, access to security graded threat and vulnerability reports, and thus gain additional security expertise. It will also be subject to supervision by the government.
Closer regulation of data centers in Norway is set to be introduced soon. Minister Gjelsvik said: "Data centers have so far been too weakly regulated. That is why we are taking no action. The government plans to present a bill on stricter regulation of data centers to the Storting in the autumn. It is crucial that Norway facilitates a safe development of the digital infrastructure, which Norway needs in the future. This is important to take care of Norwegian interests, both when it comes to security, preparedness, and our business life."
More in Standards & Regulations