Officials in Greensboro, North Carolina, have okayed a $500,000 grant to a company planning to develop a data center and education space.
First reported by the News & Record, Greensboro City Council this week unanimously granted permission for an economic development incentive grant in an amount 'not to exceed $530,359 for property improvements, purchasing new equipment, and creating jobs.'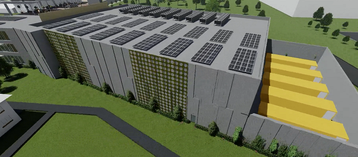 According to council documents, ImpactData is aiming to build a 'Dream Center' at the Gateway Research Park at 2901 E. Gate City Blvd. The center would be an approximately 115,000 square foot (10,680 sqm) mixed-use data center/higher education innovation center/community workforce development co-working flex space.
According to the council, the three primary components of the Dream Center would comprise a ~65,000 sq ft (6,000 sqm), 9MW, Tier III data center; a ~25,000 sq ft (2,300 sqm) innovation center wholly owned and programmed by North Carolina's A&T University; and a ~15,000 sq ft (1,400 sqm) space dedicated to workforce training lab and community engagement.
ImpactData claims it aims to invest $100 million on the site over a four-year period. The project – listed as 'Project Hawk' – would create 28 permanent jobs. The grant request was recommended by officials before the vote.
A&T Chancellor Harold L. Martin Sr. said the project "will allow the university to expand academic and research offerings in high-demand areas, such as cybersecurity and engineering, as well as further expand our growing presence in east Greensboro."
Founded in 2020 in Atlanta, ImpactData aims to bridge the digital divide by deploying purpose-built colocation data centers on US college and university campuses.
The company aims to build 'Dream Centers that integrate data infrastructure with dedicated academic, innovation & community workforce training spaces,' with a focus on partnering with Historically Black Colleges and Universities (HBCU).
The company has also partnered with DigitalBridge, though the terms weren't disclosed.
"In today's world, digital connectivity is a critical resource that is not fully accessible to everyone. As a result, the digital divide is becoming wider, and our personal and professional lives increasingly rely on better, faster, and more dependable digital infrastructure," DigitalBridge CEO Marc Ganzi said at the announcement of the partnership last year. "We're excited to be a part of ImpactData's vision to create 'mini-cloud' regions and digital learning hubs on the campuses of HBCUs, giving diverse communities better access to the resources they so desperately need."
ImpactData said it aims to deploy more than $1 billion in digital infrastructure over the next decade, and is reportedly exploring several markets including Atlanta, Dallas, Houston, Nashville, Birmingham, and Charlotte.
On its website, the company said it has partnered with an 'influential HBCU in a key southern edge market' to pilot its Dream Center concept, and partnered with a 'Global Fortune 100 client' to consolidate its existing data center assets. Whether this is the Greensboro project or another site is unclear.
ImpactData appears to be CEO Terry Comer's first data center-focused company. CTO Milke Coleman is currently still listed as CTO for Keppel Data Centres, and has previously held roles at Aligned, Google, and Yahoo.