Dubai's Moro Hub is officially the largest solar-powered data center in the world, according to Guinness World Records.
The 100MW data center is owned by Dubai Electricity and Water Authority (DEWA) and located in a DEWA solar farm, which will provide all its power. Guinness gave the award on November 2, based on its physical size. It has a floor space of 16,031.925 sq m (172,566 sq ft).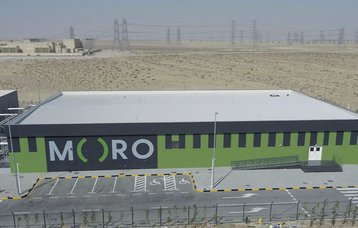 "The largest solar-powered data center is and was achieved by Data Hub Integrated Solutions MORO L.L.C (UAE), in Dubai, UAE on 2 November 2022," says the brief citation on the award page.
It's not clear if the facility is open to business. Work began on the project in December 2021, after an announcement in May. The facility is run by Moro Hub, a subsidiary of DEWA's digital arm, Digital DEWA, and is being built by Huawei.
The facility will get power from DEWA's 3,000MW Mohammed bin Rashid Al Maktoum Solar Park just southeast of Dubai. Moro Hub has announced that it will be Uptime Tier III certified for reliability.
The data center is aimed at global hyperscalers wanting to locate capacity in Dubai, and is Moro Hub's second solar-powered facility, following a 3,402 sqm (36,600 sq ft), 8.8MW Tier III-certified data center in the Dubai Marina, launched in October 2020.
At the start of construction Saeed Mohammed Al Tayer, MD & CEO of DEWA said: "Breaking ground for the largest green data center in the Middle East and Africa confirms that we are on the right track to achieve the goals of the Dubai Clean Energy Strategy 2050 and the Dubai Net Zero Emissions Strategy 2050 to provide 100 percent of energy from clean energy sources by 2050, as well as the Dubai Demand Side Management Strategy, which aims to reduce electricity and water demand by 30 percent by 2030."
The Moro Hub facility appears to be the first holder of the record for the largest solar-powered data center. Basing the record on physical size alone may leave Moro vulnerable to glory-seeking competitors, who could steal the prize by building a smaller capacity solar data center in a larger building.