American data center company H5 Data Centers has announced that it is expanding its Phoenix, Arizona, data center for the third time.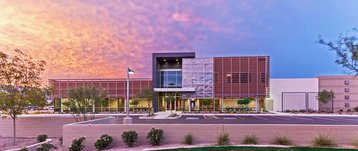 The company is adding 30,000 sq ft (2787 sqm) to the 180,000 sq ft (16,723 sqm) campus which is located at 2600 W. Germann Road in Chandler, Arizona. According to the company, the expansion is necessitated by the growing demand in the state.
Phase 3 of expansion will bring 6MW of IT capacity to the 26MW data center and will enable H5 to support an additional 530 cabinets. Timelines for completion have not been provided.
"H5 Data Centers constructs data center designs for the needs of our rapidly-growing enterprise and cloud services customer base," said Josh Simms, chief executive officer of H5 Data Centers. "The demand for Phoenix colocation space and services continues to be strong from enterprises due to Arizona's attractive power costs and the data center sales & use tax incentive program."
The Phoenix data center currently hosts 40 customers, offering a density of 20 watts per cabinet.
H5 Data Centers operates over 3 million square feet of data center space across 22 facilities in the US. Earlier this year, the company broke ground on a data center in Ashburn, Virginia, which promises 42MW of capacity across a 255,000 square feet (23,690 sqm) facility.
Several companies operate or are developing data centers in Arizona. This year alone has seen QTS break ground on a facility, Prime and Vantage purchase land, and EdgeCore begin work on a second facility on land in Mesa previously owned by Meta.
More in Construction & Site Selection