Microsoft has received an environmental permit to build its second data center in Hollands Kroon, Northwest Netherlands.
The company had already started building the data center on the Agriport A7 business park in Middenmeer as it awaited the approval. Last year, alderman of the Hollands Kroon municipality Theo Meskers flew to Seattle to try to win the data center investment.
Residents protest data center power demands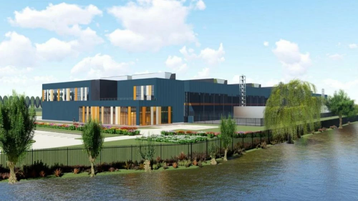 The approval comes despite locals lodging 64 complaints attempting to stop construction, local publication NH Nieuws reports.
Protest group Red de Wieringermeer was particularly vociferous in its condemnation of the data center and other similar projects. In an editorial published last year, the group decried the impact of multi-story data centers on the look of a previously agricultural area, as well as the fact that the large power consumption of data centers will necessitate more giant wind turbines dotting the landscape. Critics also pointed out that the facility will serve users across Europe, the Middle East, and Africa, and won't provide a local cloud benefit.
In addition to the other Microsoft facility, the business park is also home to a Google data center.
It too saw significant local pushback, with weekly satirical television program Zondag met Lubach criticizing the "slick promotion" and PR campaigns of hyperscalers building facilities in The Netherlands. NRC reports Google actually turned to a Luxembourg company owned by the scion of a Texas oil billionaire to build the data center. William Harrison's Cathexis will also own the land, leasing it out to Google, reducing the overall tax bill.
A CyrusOne data center and an unidentified 'Project Luna' data center are also on the way.
Citizens claim that they were told a huge Vattenfall windfarm backed by up to €660m in government subsidies would be used to power their homes, but instead the energy will all be used by hyperscale data centers.
The windfarm's subsidy comes from the Opslag Duurzame Energie, which private individuals, companies, and other small consumers pay on top of their energy bills. Large-scale users of electricity like Microsoft and Google are largely exempt from the ODE, although do pay for renewable energy via PPAs.
"This money goes from the Dutch government to a Swedish company, who delivers electricity to an American company," presenter Arjen Lubach said.
"The Internet does need servers, but not all of them have to be in The Netherlands," Lubach said. "We barely have enough space for wind turbines to compensate our own energy usage."