HPE is the first anchor tenant at the QScale QO1 HPC and AI- specialized data center in Quebec, Canada.
Construction of the QO1 campus began in June 2021, and at full build-out will have a capacity of 142MW powered by renewable energy.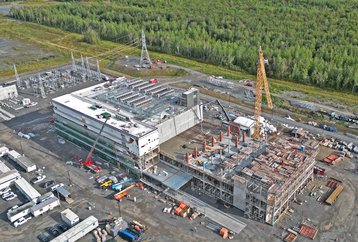 "We are thrilled to welcome Hewlett Packard Enterprise as our first anchor tenant at the Q01 Campus," said Martin Bouchard, president and CEO of QScale. "Their decision to choose QScale as a strategic partner for their supercomputing needs is a testament to our team's expertise in building and operating cutting-edge, large-scale hosting facilities powered by clean energy."
The campus uses liquid cooling and waste heat recovery as well as natural cooling which is enabled by the cooler climate. The company claims to use 'almost' 100 percent renewable energy, resulting in a PUE of 1.2 or less at all times.
"Sustainability is core to HPE's mission of delivering leadership in supercomputing, which is foundational to support a growing demand of scale requirements for simulation and machine learning workloads," said Nic Dube, senior fellow, and chief architect, HPC & AI at HPE. "QScale shares our vision of driving sustainable computing centers with the high capacity that is required for large-scale applications. By partnering with QScale to leverage their innovative purpose-built design for density and use of renewable energy, we are expanding our green supercomputing initiatives for our customers."
HPE is a known developer of supercomputers, having acquired Cray in 2019 and contributing to the first confirmed exascale supercomputer, Frontier, which is housed at the US Department of Energy's Oak Ridge National Laboratory. HPE provides supercomputers to any environment including on-premise or as a service.
QScale is a Canada-based data center provider that launched in 2021 with the start of construction on its QO1 campus. Construction of the second building commenced in September 2022.
The company received additional funding this month from Aligned Data Centers, the value of which was not shared but was described as a 'major financing round.' The money will be used for the future phases of the QO1 campus and to 'accelerate its development of high-density data centers' across Quebec.