Huawei Marine, a division of the Chinese telecommunications giant that specializes in underwater networking, has been chosen to build the South Atlantic Inter Link (SAIL) that is going to link Cameroon and Brazil.
It could become the first direct access cable to connect Africa and South America - however there are several cable systems currently competing for this honor.
Sail with me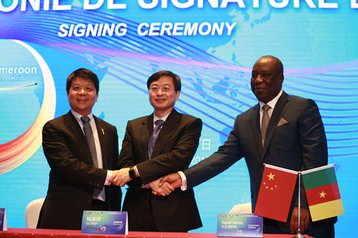 The SAIL project (formerly Cameroon-Brazil Cable System or CBCS) is jointly funded by China Unicom and Cameroonian network provider Camtel. It will be based on 100G network technology, with four fiber pairs and a design capacity of 32 Terabit per second.
SAIL will land in Kribi, Cameroon and Fortaleza, Brazil. The latter is also going serve as a landing station for the South Atlantic Cable System (SACS), an unrelated project that will connect Brazil to Angola and expected to become operational in 2018.
The contract for construction of the SAIL cable itself was signed on Wednesday, with Huawei Rotating CEO Guo Ping, CEO of China Unicom Lu Yimin, and Camtel general manager David Nkote in attendance.
"China has strategic partnerships with Africa and South America. SAIL not only provides high-quality international telecommunication services to countries in these two continent, but also better serves Chinese companies to develop their business in these region," Yimin said.
"It is a great pleasure to partner with China Unicom and Huawei Marine on building the SAIL cable system," Nkote added. "When completed, it will provide new international connectivity, to facilitate bandwidth demand between Africa and South America and support the booming economies in the two continents."