Hurricane Idalia has left close to 300,000 homes and businesses without power in the Southeastern part of the US.
The hurricane has impacted Florida and Georgia the most, after hitting land in Florida with winds of up to 90 miles per hour yesterday (August 30).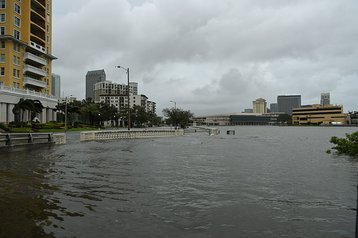 After hitting land, the hurricane has caused commercial power outages, extensive flooding, and significant structural damage throughout the area, with several major bridges inaccessible across Florida.
According to PowerOutage.us, Florida has reported 141,000 customers without power. Georgia, which is just north of Florida, has also been hit significantly, recording over 104,000 outages.
Internet monitoring firm NetBlocks noted Internet connectivity has dropped in affected areas.
"Metrics show internet connectivity has declined or collapsed in several parts of Florida as Hurricane Idalia makes landfall; the incident comes amid widespread power outages due to felled lines, with a high likelihood of sustained damage to infrastructure," the company tweeted yesterday. "Further internet outages have been tracked in Georgia as Tropical Storm Idalia centers over the southeast of the state; the losses in service are attributed to power cuts and damaged infrastructure amid flash-floods, high winds, and heavy rainfall."
Idalia appears to have also hit North Carolina, with close to 20,000 customers reporting power outages in the state.
One electricity provider, Tampa Electric, had pre-empted the impact of the hurricane, reported Reuters, as it secured around 3,000 workers from other utilities, including line crews, tree trimmers, and damage assessors.
"The weather impact was not as severe as anticipated, and our crews were able to work through the night to restore customers during the storm," said Archie Collins, CEO of Tampa Electric.
UBS expects Hurricane Idalia to cost Florida $9.36 billion alone in insured property losses.