Cryptomining companies Hut 8 and US Bitcoin (USBTC) have announced an all-stock merger of equals.
The two companies will join together to form 'Hut 8 Corp' or 'New Hut' and will have access to approximately 825MW of gross energy across six sites, four of which were previously US-based Bitcoin mining facilities, the other two were used by Hut 8 for digital asset mining and high-performance computing (HPC).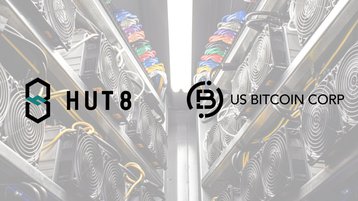 Hut 8 Corp will, according to the company, not only focus on 'economical mining', but also anticipates having several diversified revenue streams all while meeting ESG standards. The deal is expected to close in Q2 of 2023.
The company will be governed by a combination of Hut 8 and USBTC executives, including Hut 8 CEO Jaime Leverton retaining her role and USBTC CEO Michael Ho to become chief strategy officer. The board of directors will consist of five individuals from each company.
The transaction will see Hut 8 shareholders receive 0.2 of a share of New Hut stock for every share of Hut 8 they previously held. Similarly, shareholders of USBTC will retain 0.6716 per share. Based on the five-day VWAP for the Hut 8 shares on the Nasdaq as of the last trading day prior to this announcement (6 February), the aggregate Consideration implies a combined market capitalization of approximately $990 million. The two companies will each own 50 percent of Hut 8 Corp.
As part of the agreement, Hut 8 has also committed to providing USBTC with secured bridge financing during the interim period of between $6m and $6.5m.
"Our established track record of creating shareholder value through organic growth and strategic acquisitions while maintaining a balance sheet-first approach has positioned us perfectly to advance our growth trajectory through this business combination," said Jaime Leverton, CEO, Hut 8.
"Bringing together Hut 8's operational track record and diversified revenue streams with US Bitcoin's scalable mining sites, sizeable hosting business, and industry-leading managed infrastructure operations not only accelerates our diversified strategy and positions us for near-term growth, but also establishes us as a strong, US-based player that is ready and able to seize additional opportunities as they arise."
Hut 8 Corp will have 5.6 EHps of self-mining capacity and 244MW of total energy available at the five self-mining sites located in Alabama, New York, and Texas.
One of the two Texas sites, King Mountain, will remain 50 percent owned by USBTC's energy partner King Mountain Joint Venture. Hut 8 Corp will manage the 220MW of hosting infrastructure on the site which is powered by wind and nuclear power among other sources.
"The combination of Hut 8 and USBTC is an important step, but it's truly just the beginning," said Asher Genoot, co-founder and President of USBTC.
"We believe that New Hut will challenge industry paradigms and set the standard for operating rigor and team culture. We are laser-focused on identifying opportunities to capture untapped value across the mining ecosystem. Together, we will become an exceptional self-mining operator, hosting provider, strategic operator of managed infrastructure, purveyor of high-performance computing infrastructure, and industry-leading ASIC repair and sales hub, underpinned by world-class operating technology and IP to drive growth."
Last month Hut 8 was required to pause its mining operations due to disagreements with its energy provider, Validus. This, along with tumbling cryptocurrency values and the fall of FTX Trading has meant Hut 8 has had a challenging few months. On the announcement of the merger, Hut 8 shares dropped by nine percent to $2.17. In total, the stock's value has dropped by 86 percent since its November 2021 all-time high.
Riot Platforms opens new building, suffers damage in Texas storm
In other crypto news, crypto mining and data center hosting company Riot Platforms (Riot) has released its January 2023 updates.
Riot has announced the return of operations in Building F. The company experienced a significant hit to its operations after the severe winter weather in Texas damaged the pipes to its immersion-cooled F & G buildings at the Rockdale Facility in late December 2022. The Rockdale Facility has ~700MW of capacity.
Jason Les, CEO of Riot, said: "As previously disclosed, some sections of piping in Buildings F and G were damaged during the severe winter storms in Texas in late December, impacting approximately 2.5 exahashes per second (EHps) of our hash rate capacity. Repairs have been ongoing in both buildings, and we have successfully brought Building F back online, representing 0.6 EHps of impacted hash rate capacity. We are thankful for our team's progress, despite difficult weather conditions, and are evaluating several options to bring online the approximately 1.9 EHps of hash rate capacity still affected in Building G."
During this period, Riot also voluntarily curtailed operations to help protect the ERCOT grid and, as a result, earned $4.9m in power credits throughout December. The company did a similar thing in the Summer of 2022, during which period DCD reported that the company earned more in power credits than it would have from crypto mining.
While work is ongoing for building G, the company has recently completed Building D at the same facility, an air-cooled building, and is continuing developments for its external water system-cooled Building E with the installation of external wall lovers, interior water frames, and electrical testing.