At the 2022 Open Compute Project Global Summit, IBM debuted a new tape library with more than 27 petabytes in a single rack.
The company is pitching the product at what it calls the 'new wave' of hyperscalers - both the traditional cloud providers and large enterprises with massive customer data sets.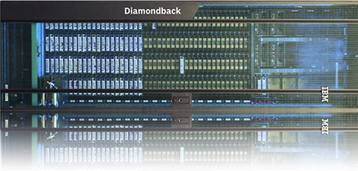 "With data breaches and ransomware attacks now a constant threat, we are seeing hyperscale enterprises increasingly turning to the data resilience provided by IBM Tape solutions," said Scott Baker, vice president and chief marketing officer of IBM Storage.
"The IBM Diamondback Tape Library provides critical protection against a variety of threats, helping minimize data center floor space requirements and organizations' carbon footprint. It's part of the end-to-end data protection and security solution that IBM can deliver."
The physically air-gapped archival storage solution is generally available today, October 20, 2022.
"Driven by an explosion in data volume, ransomware, and increased regulatory and sustainability requirements, hyperscale cloud providers are among the biggest consumers of tape storage, and are predicted to drive tape capacity shipments to new levels in 2023," said Phil Goodwin, research vice president, IDC.
"IBM's Diamondback Tape Library is the company's latest solution for both traditional and cloud hyperscale enterprises. It is designed to deliver on customers' needs for scalability, sustainability and security with simplicity and self-service."