IBM has been awarded an $18.8m modification to its US Army IT modernization contract.
The company won part of the ITES-2S contract vehicle back in 2005, with a contract ceiling of $20 billion - but GovTribe's contract tracker puts the current cumulative spend for IBM services at $1bn.
The Department of Defense Spending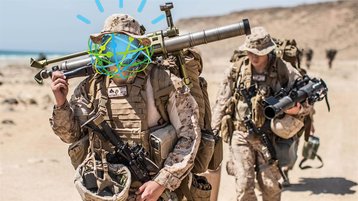 "IBM, Reston, Virginia, was awarded an $18,825,414 modification (2T0128) to contract W91QUZ-06-D-0010 for information technology services and support on behalf of the Program Executive Office Enterprise Information Systems," the Department of Defense said in its latest listing of contract awards.
"Work will be performed in Radford, Virginia, with an estimated completion date of April 13, 2021."
IBM's ITES-2S contract W91QUZ-06-D-0010 covers server consolidation, information systems security, systems operations and maintenance, network support services, data center assessment and selection, and more.
Earlier in April, IBM was awarded a separate modification to the contract - this time for $23,569,218 - to support a logistics data analysis center.
The Information Technology Enterprise Solution 2 Services contract was originally set to expire in 2015, but was repeatedly delayed until April 2020 while the Army finalized ITES-3S. The original RFP for ITES-3S, which focuses more on cloud computing and cybersecurity services, was issued in February 2016.
The Department of Defense is also looking to shift the majority of its computing needs to one cloud provider, under the Joint Enterprise Defense Infrastructure initiative. But, after the oft-delayed JEDI contract was awarded to Microsoft Azure in October, the program has been stymied by legal challenges from competitor Amazon Web Services.
Amazon claims that the procurement process was unfairly influenced by President Trump, who appears to dislike Amazon CEO and Washington Post owner Jeff Bezos. The DoD Inspector General found no proof of such allegations, but was barred by the White House from interviewing White House staff members or discussing White House communications with DoD officials.
AWS' lawsuit over the contract is currently on hold as the DoD reviews its award.