Icelandic data center operator Advania has opened a testing facility for customers who want to try using hardware from Nvidia for their high performance computing (HPC) workloads.
The 'test drive center' offers remote access to the latest Nvidia Tesla V100 GPUs with Tensor Core technology, developed for tasks in advanced analytics, visualization and artificial intelligence research.
The cluster is based at the Thor data center campus which uses natural free cooling, is powered by 100 percent renewable energy and claims a PUE rating of 1.17.
Working remotely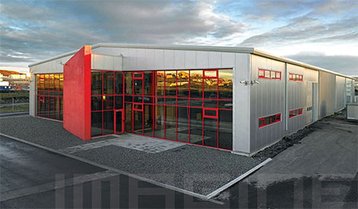 Advania Data Centers (ADC) is headquartered in Reykjavik, where it operates two data centers. It is a subsidiary of Advania, a Nordic services company with presence in Sweden, Norway and Iceland, running much of the latter's public sector IT.
ADC specializes in high power densities, with modular Thor facility housing HPC infrastructure, and Mjölnir responsible for cryptocurrency mining equipment.
The latest addition to the campus is a cluster of HPC servers equipped with GPUs an available as a service. Whereas traditional server CPUs from Intel feature up to 64 compute cores, GPUs can have thousands of cores, making them especially suitable for deep learning and AI. According to Advania, in certain workloads, a combination of GPUs and CPUs can deliver up to ten times higher performance than using CPUs alone.
"The ADC Test Drive Center enables companies to see how their applications behave," Staffan Hansson, HPC sales specialist at ADC, explained.
"Say you want to see how the air flows around a car. Your HPC application might use only CPUs to do that. But applications nowadays also add support for GPU accelerators, because that can be much faster. Before the customer buys the GPU accelerator, though, they want to try it out and see if it's something for them. The Test Drive Center provides the perfect environment for that customer to take that test drive with the GPU accelerator."
ADC made the news in April after it fell victim to an unusual crime spree – Mjölnir was among the three data centers burgled in what the local press dubbed the "Big Bitcoin Heist." In four raids between December and January, a gang stole approximately 600 cryptocurrency mining servers, worth almost $2 million.
In March police arrested 11 people suspected of being involved, followed by another 11 suspects – and yet the alleged mastermind managed to flee the country, by walking out of a low-security prison and boarding a plane that carried Iceland's Prime Minister Katrin Jakobsdottir. He was later apprehended in Amsterdam.