Internet Initiative Japan Inc. (IIJ) has launched a second data center on a campus outside Tokyo.
The company this week announced the start of operations at the second phase building on its Shiroi Data Center Campus in Shiroi-shi, Chiba Prefecture.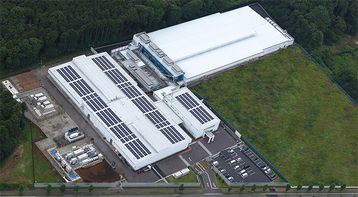 The facility had been under construction since May 2022; and will offer 10MW and capacity for 1,100 racks across 8,000 sqm (86,110 sq ft). Currently, the building has 550 racks, with the remaining half due to come into use by February 2024.
The new air-cooled building offers densities of 10-20kW per rack and utilizes on-site solar.
"The Shiroi DCC's second phase building aims to meet increasingly diverse colocation needs, from companies offering private cloud services and SI service providers to cloud vendors and content providers, including those installing AI platforms, as well as data center service providers needing reseller space with outstanding energy efficiency," the company said.
The Shiroi campus is sat on a total of 40,000 sqm (430,555 sq ft) and will eventually span four buildings and offer 50MW across 6,000 racks. The first building, which opened in 2019, offers capacity for 700 racks.
The Shiroi campus is also the location for an Edge data center deployment trial with Australian micro data center firm Zella DC, and houses a Tesla Powerpack lithium-ion battery storage system.
The company installed solar panels at the Shiroi campus in February 2023. In March the company announced a similar deployment at its Matsue Data Center Park in Matsue, Shimane Prefecture.
The Matsue City campus opened in 2011 and expanded in 2013. It totals 16,000 sqm (172,225 sq ft) and 5MW, with space for 4MW. Last year the company announced plans for another 2,000 sqm (21,525 sq ft) module with capacity for 300 racks, set to go live in 2025.
The system capacity of the newly-installed solar panels is expected to be approximately 340 MWh in annual electric power generation, amounting to around seven percent of the Matsue DCP server building needs.
KDDI acquired a stake in IIJ from NTT earlier this year.
IIJ building in Iceland and Uzbekistan
Founded in 1992, IIJ has built one of the largest Internet backbone networks in Japan, and was the nation's first ISP. The company operates around 17 locations in Japan and five more internationally. 2023 has seen IIJ announce two more international projects.
In April, IIJ announced a data center trial project in Iceland in partnership with national power company Landsvirkjun. The trial, running from April until March 2024, sees IIJ install a microdata center at the Landsvirkjun Írafoss hydropower station in southern Iceland. The facility will be remotely-controlled by IIJ's European unit from London.
In January, the company announced it was to provide data center infrastructure to Uzbektelecom in Uzbekistan. Installation is scheduled to begin in 2023, with IIJ saying it expected the facility to significantly improve the communications environment of Uzbekistan.
The project funded by the Japan Bank for International Cooperation (JBIC), Nippon Export and Investment Insurance (NEXI), and the MUFG Bank, Ltd, will see Toyota Tsusho will serve as the overall coordinator, NEC provide optical wavelength multiplexing communications equipment and training, and NTT providing equipment for the large-scale communication network and education for Uzbektelecom's operational staff.
More in Construction & Site Selection