New Zealand infrastructure investor Infratil has acquired a stake in UK data center firm Kao Data and acquired two data centers to add to the company's portfolio.
Infratil is investing "up to £120-130 million" (US$163-177m) to acquire a 40 percent stake in the firm.
"I welcome today's announcement of Infratil Limited's investment in Kao Data, and on behalf of our management team, we look forward to working with them on the next stages of this exciting journey," said Kao Data CEO Lee Myall. "This investment presents a strategic opportunity to accelerate our mission of supporting the computing requirements of advanced industries, and to do so sustainably."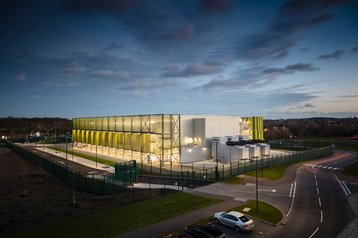 Kao Data owns a 15-acre data center campus just north of London in Harlow. The campus – home to Nvidia's Cambridge-1 supercomputer – currently has one data center on-site with the construction of a second to begin this financial year. The campus will house four buildings when fully built out.
As part of the announcement, Kao Data has also recently signed an agreement to acquire two data centers with a long-term anchor lease from "a large financial services business." The acquisitions are due to close before the end of 2022, but locations or terms weren't disclosed.
"This purchase will enable Kao to deliver multi-site services for its clients and expand potential capacity to ~55MW," the companies said.
Kao's current owners Legal & General Group and Goldacre will each retain a 30 percent stake in Kao. The companies together plan to "build Kao Data into a £500 million ($681m) multi-site data center platform in the medium term."
"This is another landmark moment for Kao Data, both for the continued growth of the firm and for the development of the wider data center industry," said David Bloom, founding partner at Goldacre, the venture capital arm of the Noé Group. "We look forward to working with Infratil and our existing partners to create further opportunities to accelerate the emergence of state-of-the-art infrastructure and enter new markets around the globe."
Launched in 1994, Infratil invests in renewables, digital and social infrastructure businesses, with operations across New Zealand, Australia, Europe, Asia, and the US. The company acquired CDC Data Centres in 2016.
Infratil CEO Jason Boyes said: "With global demand for connectivity continuing to rise, this is an excellent opportunity to expand our digital infrastructure portfolio and build on our successful data center platform investment in Australia and New Zealand."