Intel's CEO Brian Krzanich met with President Donald Trump to announce a $7 billion investment in a semiconductor factory in Chandler, Arizona. Construction began in 2011.
Fab 42, which will focus on 7 nanometer (nm) chips, is expected to support more than 10,000 long term jobs, 3,000 of which will be directly employed by Intel.
The times, they are a… different
The factory was announced in 2011, with a target completion data of 2013. Then-head of manufacturing Brian Krzanich told USA Today: "The big part of my job is when to decide to build a new lab. It's a very large, complex construction process. Think of making one of the world's largest nuclear reactors. And I have not missed one deadline yet."
The next year, then-President of the United States, Barack Obama, visited the factory which was then planning to manufacture 14nm chips.
Thanks for stopping by today Mr. President! @BarackObama speaking at the #Intel Fab 42 in Chandler, AZ today pic.twitter.com/uaVvb9jQ

— Intel (@intel) January 26, 2012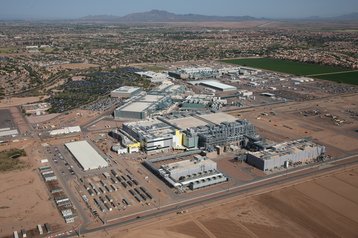 But then market conditions changed. Despite essentially completing the main building, Intel announced in 2014 that it would instead build 14nm chips at existing facilities in Oregon and Arizona, after suffering a downturn in PC sales. It, however, maintained that it still planned to use the site.
Now, Intel hopes to build a new generation of chips, using new equipment it ordered in 2015 just for this very occasion. In 2016, it announced it would cut 12,000 jobs worldwide as it focused on newer product lines.
It is also important to note that Intel could not manufacture 7nm products outside of the US due to the Wassenaar Arrangement, which requires a company to receive government approval before it can export manufacturing equipment that can produce chips smaller than 45nm.
"This would have happened anyway. This was always part of their plan," Jim McGregor, analyst at Tirias Research in Phoenix, told the Chicago Tribune. "But obviously, the current administration and Intel are going to try to get some political gain out of it."
The announcement
"This factory will produce the most powerful computer chips on the planet, powering the best computers, the best data centers, autonomous cars," Krzanich said, standing next to Trump. "All of these devices are the most powerful computing devices on the planet."
Thank you Brian Krzanich, CEO of @Intel. A great investment ($7 BILLION) in American INNOVATION and JOBS! #AmericaFirst🇺🇸 pic.twitter.com/76lAiSSQ1l

— Donald J. Trump (@realDonaldTrump) February 8, 2017
In a letter to employees, Krzanich added: "Why did we choose to do this announcement at the White House? Intel is proud of the fact that the majority of our wafer manufacturing and R&D is based in the United States… despite the fact that from a tax and regulatory position we have been disadvantaged relative to the rest of the world where we compete.
"That's why we support the Administration's policies to level the global playing field and make U.S. manufacturing competitive worldwide through new regulatory standards and investment policies."
During the 2016 campaign, Krzanich invited Trump to his home for "a conversation about the issues," but canceled the meeting after the mostly-Democratic Silicon Valley criticized it as a fundraiser. He also took part in last year's tech summit in the Trump tower.
But Intel has no unwaveringly supported Trump, and was one of the nearly 100 companies to sign a legal brief against Trump's recent travel ban.
This is also not the first time that critics have claimed Trump has attached his name to an announcement that would have otherwise happened.
The Trump team previously took credit for a $50 billion/50,000 job investment from SoftBank, which had been announced prior to his election victory. They also took credit for an Amazon announcement that it would add 100,000 new jobs over the next 18 months, but Amazon's latest quarterly report shows it added 100,000 in the year leading up to his election. Trump himself took credit for stopping a Ford factory moving, despite the company claiming that it never planned to move the facility.