Intel's CEO Brian Krzanich has resigned from the American Manufacturing Council after US President Donald Trump appeared reticent to explicitly condemn the white supremacists and neo-Nazis who held a violent rally in Charlottesville, Virginia.
Merck CEO Kenneth Frazier and Under Armour CEO Kevin Plank also resigned, but many were quick to point out that Dell CEO Michael Dell remained on the panel. Tesla CEO Elon Musk previously left the council after Trump's decision to pull the US out of the Paris Climate Accord.  
Condemnation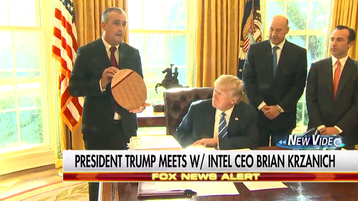 After a white nationalist "Unite the Right" march in Charlottesville that led to multiple injuries and one death when a car plowed into a group of counter protesters, many expected the President to swiftly condemn the behavior.
Instead, Trump criticized violence on "many sides," ignoring reporters when they asked if he would specifically speak out against white nationalist groups such as the KKK.
Trump has since described members of such groups as "criminals and thugs," but the comment came after an extended period of criticism and disbelief from some quarters, with his initial remarks quickly embraced by neo-Nazi publication The Daily Stormer.
It wrote: "Trump comments were good. He didn't attack us. He just said the nation should come together. Nothing specific against us. He said that we need to study why people are so angry, and implied that there was hate … on both sides! So he implied the antifa [anti-fascists] are haters. There was virtually no counter-signaling of us at all."
It was during this period that Krzanich tweeted: "There should be no hesitation in condemning hate speech or white supremacy by name. Intel asks all our [country's] leadership to do the same."
He then followed up with a more detailed statement as he resigned from the council.
Krzanich said: "Earlier today, I tendered my resignation from the American Manufacturing Council. I resigned to call attention to the serious harm our divided political climate is causing to critical issues, including the serious need to address the decline of American manufacturing. Politics and political agendas have sidelined the important mission of rebuilding America's manufacturing base.
"I have already made clear my abhorrence at the recent hate-spawned violence in Charlottesville, and earlier today I called on all leaders to condemn the white supremacists and their ilk who marched and committed violence. I resigned because I want to make progress, while many in Washington seem more concerned with attacking anyone who disagrees with them. We should honor – not attack – those who have stood up for equality and other cherished American values. I hope this will change, and I remain willing to serve when it does.
"I am not a politician. I am an engineer who has spent most of his career working in factories that manufacture the world's most advanced devices. Yet, it is clear even to me that nearly every issue is now politicized to the point where significant progress is impossible. Promoting American manufacturing should not be a political issue.
"My request - my plea - to everyone involved in our political system is this: set scoring political points aside and focus on what is best for the nation as a whole. The current environment must change, or else our nation will become a shadow of what it once was and what it still can and should be."
In response to the string of resignations, Trump tweeted: "For every CEO that drops out of the Manufacturing Council, I have many to take their place. Grandstanders should not have gone on. JOBS!"