Interxion appears to have halted plans to expand in Ireland in the wake of a de facto moratorium placed on new facilities by the national grid operator.
Ireland's state-owned electric power transmission operator EirGrid has imposed a de facto moratorium on new data center developments in the greater Dublin area, saying it will only consider new applications for connection to the grid on a case-by-case basis in the wake of a Commission for Regulation of Utilities (CRU) decision to limit their impact. The restrictions could reportedly last until 2028.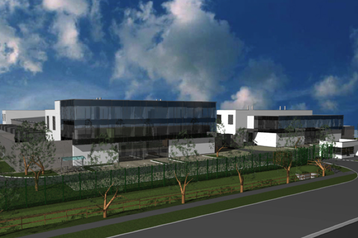 Seamus Dunne, MD of Interxion's Ireland operations, told Ireland's Business Post that the Digital Realty company has paused a $300 million expansion plan in Dublin due to Eirgrid's moratorium on the building of new facilities.
The company recently acquired an 8-acre parcel in the Irish capital to expand its existing presence. It currently has facilities in the Clonshaugh Business & Technology Park, the IDA Business & Technology Park, and Grange Castle Business Park, and Park West Business Park.
"We had already committed to buying the land [for data center expansion] before the moratorium came into being and so we have little choice but to play the long game with it," he told the publication.
Dunne said the ban on new data center applications was unfair, particularly as it didn't distinguish between different types of facilities.
During the CRU's consultation phase around the future of data centers in the country, Google warned that any such ban would send the "wrong signal" about Ireland's ambitions as a digital economy and render any further investments in its infrastructure in the country "impossible."
The Irish Industrial Development Agency (IDA), a body charged with attracting investment into Ireland, asked EirGrid for assurance that applications will at least be considered on a case-by-case basis. But despite IDA's plea, DCD understands that EirGrid has already denied several applications, even with some on-site generation.
As of June 2021, Eirgrid had agreed to connect 1,800MW of data centers to the grid in the future, but had received applications for another 2,000MW. How much of that 2,000MW was authorized before the embargo is unknown.
Pushback in South Dublin
Both the Social Democrats and People Before Profit have called for a nationwide moratorium on future data center projects in the last 12 months; the PBP's bill would have placed an absolute ban on data centers, Liquid Natural Gas plants, and new fossil fuel-related infrastructure. In Dublin, South Dublin County Council (SDCC) last month voted to prevent future data center construction in the county as part of its new draft development plan.
South Dublin is home to the Grange Castle and CityWest industrial areas, which hosts data centers from companies including Microsoft, Amazon, EdgeConneX, CyrusOne, Digital Realty, and Google.
The amendment was put forward by People Before Profit Councillor Madeleine Johansson. Dublin People reports the motion was voted through by 18 votes in favor, 13 against, and one abstention
However, the Office of the Planning Regulator has criticized the decision, saying that such a ban as being without any "strategic justification." The decision has been opposed by IDA Ireland, Enterprise Ireland, and IBEC association, Cloud Infrastructure Ireland.
The OPR claims the council's amendments in relation to data centers represent "an unconditional policy approach for which no clear evidence-based rationale is evident" and is in conflict with regional policy objectives for economic development. As a result, the OPR has issued a recommendation that they should be omitted from the final version of the plan.
Amazon called the proposed ban "undoubtedly well-intentioned" but "inimical to South Dublin's interests" in a submission on the council's development plan.
However, with the current restrictions put in place by EirGrid, the enforcement or removal of such policies in local development plans are incidental.
Pushback in North Dublin
In the north of the city in Fingal County Council, An Taisce has lodged an appeal against a data center planning by energy firm Energia. The company was given the go-ahead to build two data centers next to the Huntstown Power Station in April.
An Taisce – the country's National Trust – has lodged an appeal with national planning authority An Bord Pleanála against the decision.
According to the Irish Independent, An Taisce has expressed concern at the pressure placed on Ireland's energy resources by the large number of data centers in the Republic, with the organizations' planning and environmental planning officer, Phoebe Duvall, saying Ireland, and particularly Dublin, already hosted an enormous and disproportionate amount of data infrastructure in western Europe.
"This proliferation of data infrastructure has largely gone unchecked and data centers now consume 11 percent of Ireland's total grid-generated electricity," Duvall said. "By increasing overall energy demand in Ireland through the uninhibited development of data centers, we are actively diluting the end benefit of renewable energy penetration that has been created and added to the grid over the past 20-30 years."
DCD explores the current situation in Ireland, along with local push back in Northern Virginia and the slow re-opening of Singapore, in issue 44 of DCD Magazine. Download it for free now.