Quantum computing firm IonQ has announced plans for two new rack-mounted systems for on-premise deployments. The company is to deploy two quantum computers to the US Air Force.
The company this week announced IonQ Forte Enterprise and IonQ Tempo, which the company said were both designed for businesses and governments wanting to integrate quantum capabilities within their existing infrastructure.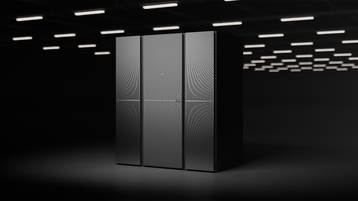 On its website, the company said Forte Enterprise would be available in 2024, and Tempo in 2025.
Forte Enterprise is a rack-mounted version of its existing 32-qubit system, which was first announced back in May 2022 and made available through the cloud in June 2023. The new rack-mounted system offers 35 Algorithmic Qubits (#AQ), which is IonQ's benchmark measure for how well a system performs.
IonQ also detailed Temp for the first time. The company said it is an #AQ 64 enterprise-grade system that will be able to "far exceed" what can be simulated with classical computers and GPUs, and provide a computational space 536 million times larger than IonQ Forte.
Rendering suggests Forte comprises eight racks, while Tempo will span just three.
"Today's quantum capabilities are often limited by system accessibility and inaccuracy at scale. With Tempo and Forte Enterprise, IonQ is signaling to our partners that quantum technology can work hand-in-hand with existing data center hardware, and will lead to commercial advantage within a two-year time frame," said Peter Chapman, CEO and president of IonQ.
"We are fast approaching the point where quantum computers will become the default toolset for tackling the world's most challenging problems. IonQ is leading the charge in making sure our systems are available so enterprise companies can prepare for that moment now."
IonQ currently operates a data center in Maryland, and is developing a second site in Washington. The company is planning to deploy two systems in Switzerland in partnership with QuantumBasel.
This week also saw IoQ announce an expanded relationship with the Air Force Research Lab (AFRL) to deploy two barium-based trapped ion quantum computing systems for quantum networking research and application development. As part of the contract, IonQ will deliver and set up systems at AFRL's location in Rome, New York.
"AFRL is seeing incredible achievements on trapped ion quantum systems to enable and grow US quantum technology, the innovation occurring on the frontlines by industry will bring revolutionary technologies to our warfighters," said Michael Hayduk, deputy director, Air Force Research Laboratory, Information Directorate.
IonQ CEO Chapman said: "This partnership will significantly help advance U.S. defense technologies as quantum computers increasingly become a prevalent centerpiece of national computing stacks."
IBM launches quantum computer in Canada
IBM has deployed its quantum computer in Canada. Announced last week, the newly inaugurated IBM Quantum System One is deployed at IBM's facility in Bromont, Quebec.
Plans to deploy the 127-qubit system were first announced in February 2022, with IBM partnering with the Government of Quebec for the project. The system will be operated by the Platform for Digital and Quantum Innovation of Quebec (PINQ²); a non-profit owned by the local government and the Université de Sherbrooke.
As well as the IBM system, a quantum computer from Pasqal is set to be deployed at a new 50,000 sq ft quantum space in Sherbrooke, Quebec, known as Espace Quantique 1.