Quantum computing firm IonQ has signed a new contract with the US Air Force.
The NYSE-listed company this week announced that is has secured a $13.4 million contract to supply the US Air Force Research Lab (AFRL) with access to its trapped ion systems for quantum computing hardware research and for the development of quantum algorithms and applications.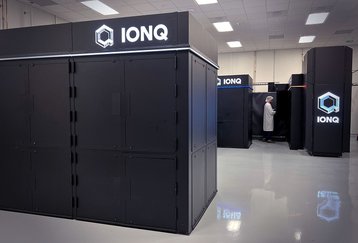 It's unclear if IonQ will be supplying a quantum computer to AFRL or providing access to one located at the company's data center in Maryland.
"Trapped ion systems and their performance demonstrated by high algorithmic qubits (AQ) have some very unique properties making them one of the leading technologies in the development of quantum computing and networking capabilities," said Michael Hayduk, Deputy Director of the Information Directorate at the Air Force Research Lab.
"This contract solidifies AFRL's long-term strategic focus in quantum information science. The partnership will accelerate critical quantum science and technology projects, benefiting the Air Force as we seek to maintain our competitive advantage and advance our national security interests."
AFRL is a scientific research organization operated by the United States Air Force Materiel Command. Its research areas include vehicles, weapons, technologies, materials, and energy & propulsion. The organization's HQ is located at Wright-Patterson Air Force Base in Dayton, Ohio; AFRL's Air Force Office of Scientific Research (AFOSR) is located in Arlington, Virginia.
"Quantum computing is the key that we believe will unlock unforeseen efficiencies and strength in the development and deployment of US defense technologies," said IonQ CEO Peter Chapman. "This area of research holds incredibly exciting promise, and we're proud to be among the first to partner with the AFRL to further American leadership in this important space."
IonQ, founded in 2015 and based in College Park, Maryland, generates quantum computers that are available through the cloud and direct API access. Earlier this year, IonQ announced an upcoming quantum computer, IonQ Forte, the company's first software-configurable computer which is expected to be available for customers in early 2023. The Forte quantum computer sports 32-qubits, and uses acousto-optic deflector technology to direct laser beams that drive quantum gates towards individual ions.
The US DoD and Air Force have acquired a large number of supercomputers in recent years, with many going to AFRL. Last year AFRL procured a nine petaflops supercomputing system from Penguin Computing, set to be installed at its Dayton site this year.
In 2019 it procured a Cray CS500 as well as an IBM True North neuromorphic digital synaptic supercomputer named Blue Raven and installed at AFRL's Information Directorate Advanced Computing Applications Lab in Rome, New York.