The Irish government isn't looking to limit the number of data centers, despite new figures showing increasingly high energy use.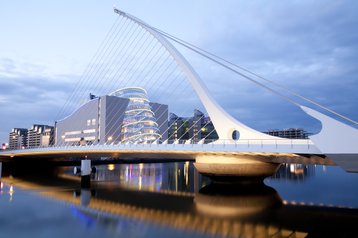 New figures published by the Central Statistics Office this week show that data center power consumption in Ireland has increased by 31 percent in just a year, and accounted for 18 percent of all electricity used in 2022.
In comparison, households have reduced their electricity consumption to just nine percent.
Despite this, Ireland's government has no intention of reducing the number of data centers in the country.
Climate Minister Eamon Ryan said at the National Economic Dialogue: "The data centers are a really important, beneficial sector for our country. We have a huge advantage of having them here in terms of the potential industries that are based here that come with it.
"I think it comes down to every single data center looking at what flexible systems they have to deliver low carbon electricity or they can use some of the waste heat."
Heat reuse has been explored in the Dublin area. In 2021, Heatworks began work on an AWS district heating scheme that would reuse head from the company's data center in Dublin. 133 apartments should be connected to the network by 2024. Equinix has also explored the solution, and in 2022 commissioned a feasibility study in Blanchardstown.
Enterprise Minister Simon Coveney added that there is "no technology-based economic growth without data centers."
"The challenge for us isn't to reduce the number of data centers in Ireland. The challenge is to find a way of powering them with sustainable abundant power by capturing the potential of, in particular, offshore wind, which I think you'll see a significant change in investment in the next few years."
However, Social Democrat TD Jennifer Whitmore expressed concern and argued that the new statistics show that the previously dismissed warnings of data center consumption reaching 30 percent by 2030, are now looking like a reality.
"The CSO statistics released today indicate we are on course to meet or even exceed that figure," said Whitemore. "Responsibility for meeting our climate action targets should not fall on individual customers while the Government conveniently ignores runaway energy consumption by data centers."
The announcements come shortly after local grid provider EirGrid issued an amber warning. In a Twitter post on June 10, the company said: "The electricity system is experiencing tight margins today. A SystemAlert (Amber Alert) notice has been issued to the electricity market this morning due to low wind, limited electricity imports & forced outages at a number of generators."
Just yesterday, thunder and lightning caused significant power outages across Dublin. Over 1,500 customers were affected.
EirGrid previously imposed a defacto moratorium on data center developments in the greater Dublin area. The grid operator stated that no new data centers would be granted a grid connection in the area until 2028. Some data centers have managed to find a loophole to this, however, with 11 previously approved facilities now relying on the gas network for power.
---
More from The Energy & Sustainability Channel:
More in The Energy & Sustainability Channel