The Department of Energy held a dedication ceremony for the Frontier supercomputer this week, which launched earlier this year as the first official exascale supercomputer.
Unmentioned during the hour-long series of speeches was the fact that China secretly launched two exascale supercomputers last year, beating Frontier to the title. However, China did not submit the systems to the Top500 ranking, so Frontier is the only 'official' exascale supercomputer.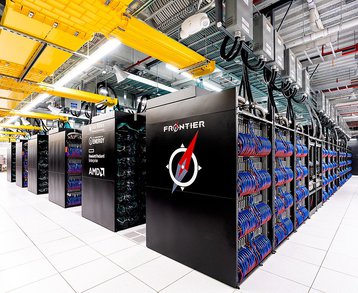 "It is really good to be number one," David Turk, the DOE's deputy secretary, said. "And it's also incredible to really take a step back and recognize how far in front of the pack Frontier really is right now - and it's right now, we have to keep working on the next generation."
"It operates at twice the speed of the world's second fastest supercomputer," he added, referencing Japan's Fugaku system, which previously topped the Top500.
China's exascale systems may actually be faster than Frontier, at least until it is fully optimized. However, it is hard to tell as details are limited - and the supercomputers are believed to be much less power efficient and less optimized compared to the HPE Cray-AMD system.
"This is the first time ever that sentient beings have achieved exascale computing," Turk said, inaccurately. "That's pretty exciting. Never before happened ever in the history of the universe, as far as we know."
He added: "I think the vast majority of people in the world like to see the US in that leadership role and depend on us to be in that leadership role, with the values we bring to the table, with the sense of responsibility that we bring to the table."
Frontier consists of 74 cabinets, each weighing in at 8,000 pounds. They feature 9,408 HPE Cray EX nodes, each of which has a single AMD 'Trento' 7A53 Epyc CPU and four AMD Instinct MI250X GPUs, for a total of 37,632 GPUs. Across the system, it has 8,730,112 cores.
Frontier has 9.2 petabytes of memory (half HBM, half DDR4) and is interconnected by HPE Slingshot-11, requiring 90 miles of networking cables. It has 37 petabytes of node-local storage as well as 716 petabytes of center-wide storage. The system is liquid-cooled using warm (85°F/29.4°C) water, 6,000 gallons of which is pushed through the system each minute by four 350-horsepower pumps.
The supercomputer spans 372 square meters (4,004 sq ft) and consumes 40MW of power at peak. In an early submission to the Top500's High-Performance Linpack (HPL) benchmark, it achieved 1.102 exaflops of sustained performance.
But it has a theoretical peak performance of 1.686 exaflops, and Oak Ridge believes it can reach 2 exaflops in time.
"It is truly an honor to be here today," AMD CEO Dr. Lisa Su said. "If you think about the journey to exascale, we actually have to go back more than 10 years. When we think about the research that was necessary to even get to this point, that is what it means to have a long term vision in science and really invest in that."
She added: "We are a large company with 25,000 employees, and I can tell you personally, there was no project for our company that was more important than delivering on Frontier.
"I saw Frontier for the very first time today all put together. It was truly breathtaking, it's amazing what you can do and just a little bit of floor space - and I was joking that there's a little more space there, so we might have more that we can do together."
Frontier was not meant to be the first exascale system from the US - that crown was meant to be given to Aurora. But delays to Intel's chips meant that it has been pushed back to later this year.