IT provider Expedient has launched its new Edge offering: 'Expedient Edge.'
The new Edge platform is based on the HPE Edgeline EL8000 Converged Edge system and has also been built in partnership with VMware.
Smaller than the size of a standard carry-on suitcase, Expedient Edge contains three to four nodes and can be clustered up to 100 servers.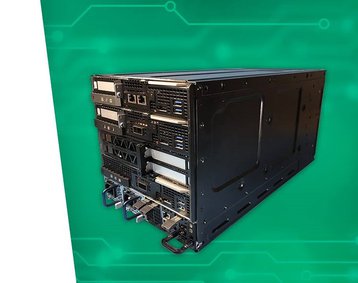 "Data is increasingly being processed and created at the edge, and by collaborating with industry leaders like Expedient, we are helping organizations efficiently and securely manage data in any environment," said Gerald Kleyn, vice president and general manager, HPC Solutions & Hardware Platform Engineering, HPC & AI at HPE.
"By delivering the HPE Edgeline EL8000 Converged Edge System in Expedient Edge, Expedient's customers gain a rugged and compact system designed to power a range of workloads in harsh edge environments."
The new Edge platform is a more affordable alternative than those offered by many hyperscalers, costing only $2,000 a month. Expedient handles the installation and maintenance of the systems, and it can be managed on the Expedient Edge platform which offers services including Multi-Cloud File Storage, Cloud Data Protection, Push Button Disaster Recovery, Multi-Cloud Firewall and Operations CTRL.
"Many organizations that are intrigued by a cloud model at the "Edge" turn to hyperscale cloud providers and are oftentimes shocked at the barriers to entry," said Expedient CEO Bryan Smith.
"But solutions available till now have been too expensive, too complex, or too limited in functionality. With Expedient Edge, we flip the script. At less than a 10th of the entry price of comparable offerings, yet packing the essential cloud service organizations seek, Expedient Edge is poised to reshape the edge, unify OT (Operational Technology) and IT (Information Technology), and help organizations achieve their business outcomes."
Expedient already has some customers in the manufacturing workspace and anticipates the product being used in a variety of sectors including retail, healthcare, and financial services. The platform is now available on the market.
Last month the company announced a senior management shift, with previous CEO Shawn McGorry becoming chairman of the board, and CSO Bryan Smith taking his place. The company was bought by AMP Capital in 2019, reportedly for over $500m.