A data center in Japan's North Island of Hokkaido, cooled by snow meltwater, is using its waste heat to run an eel farm.
The White Data Center (WDC) in the city of Bibai has imported 1700 elvers (young eels) and will farm them in tanks at the data center. The data center is cooled with melted snow, gathered in winter and used all year round. After being used to cool the data center, the water has a temperature of 33°C, which is ideal for eel farming, the company says.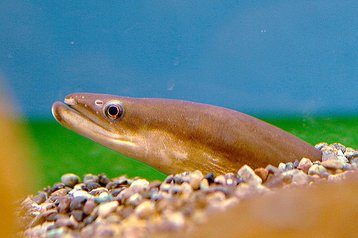 Hot aisles meet warm eels
The White Data Center began as a project run by the city of Bibai, known for its winter sports and snow. The region has been thinking of ways to harness the cooling power of snow, and cooling computers with meltwater was first proposed in 2008. In 2010 Bibai ran a project demonstrating servers could be cooled with meltwater. From 2014 to 2019, the city ran the White Data Center project, supported by Japan's NEDO (New Energy and Industrial Technology Development Organization) research body, to demonstrate that snow could be stored in winter and used all year round to cool a data center.
The project saved around 20 percent of the data center energy bill, and White Data Center has now been spun out as a commercial project, which began operation in April 2021, on a 3.6-hectare plot of land bought by one of the project's partners, Kyodo News Digital. WDC aims to operate a zero CO2 emission data center.
The data center site has a heap of snow gathered in the winter, which cools the data center via antifreeze circulating in a pipe running from the heap to the data center.
The center currently runs 20 racks of servers, according to a Government press release, but a second data center is already planned to open later this year, with 200 racks of servers.
The cooling system produces water at 33°C, which is an ideal temperature for farming and aquaculture. During its time as a research project, WDC explored various agricultural options for this heat, including abalone, sea urchin, Japanese mustard spinach, cherry tomatoes, and other products.
As WDC enters a commercial phase, it has chosen eels and mushrooms as the first products, according to a report in Asahi Shimbun. Both can be harvested after a short period of cultivation.
Eels in particular are a major food staple in Japan, where a massive eel-farming industry has ramped up to some 250,000 tons per year in the last 40 years.
In November WDC set up a farming facility supported by Bibai City. The tanks will be kept at 27C all year round using the cooling system's output WDC expects to ship in around 300,000 eels, which will be grown on-site for seven months, till they reach a commercial weight of 250g.
In February a shipment of 1,700 elvers was flown in from Kobe. When grown, the eels will be sold nationwide and included in local school meals. They will be the first eels cultivated in Hokkaido, Asahi Shimbum reports.
"The next data center we plan to build will be ten times the size of the current one," said WDC President & CEO Ijichi Shinichi in the government release. "In order to use energy efficiently, we're experimenting with vegetable cultivation and fish and seafood farming in greenhouses using waste heat produced by the servers during winter. We plan to turn this into a reality as the data center grows in scale."
WDC's research into snow-cooling has already born fruit elsewhere. In nearby Ishikari City, Hokkaido, Kyocera has been building a renewable-powered data center that will be cooled by snow. The idea is even proving usable further South on Japan's main Honshu island, where Data Dock has been using the technique in the Niigata Nagaoka Data Center in Niigata Prefecture.
And data centers are also teaming up with fish farms elsewhere. In Norway, Green Mountain is using its waste warm water in a lobster farm and has also heated a trout farm.