Internet Initiative Japan Inc. (IIJ) is exploring deploying a modular containerized data center in Kenya.
The company said this week that the Ministry of Economy, Trade and Industry has been exploring ways to "capture the vitality of the African market," and decided to explore a data center project.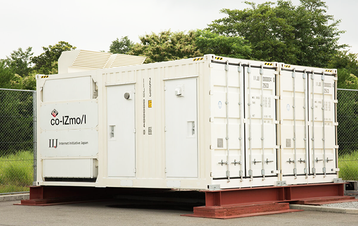 "In this project, from August this year to January 2024, we will investigate the feasibility of introducing a container-type data center (DC), with the Republic of Kenya... as the target country."
IIJ said that demand for digital services in the country is increasing, creating bandwidth issues as most rely on services based outside Kenya.
"There is an issue that the development and supply of ICT infrastructure, including data centers, cannot keep up with demand," IIJ said. "We have developed our own container-type DC co-IZmo/I that can be easily installed by transporting servers and network equipment inside. This time, we will investigate the feasibility of using this co-IZmo/I as a data center for basic infrastructure in the country and as a DC for cloud services for local content providers."
co-IZmo/I is an ISO20ft container module, available in 4-rack configurations at up to 10kW per rack. The modules can use indirect outside air conditioning for an average annual PUE of 1.17.
It can also be used to build data centers with hundreds of racks; IIJ's Matsue Park utilizes the containers.
During the feasibility study, IIJ aims to find a partner to host the container data center with suitable land, power, and fiber.
Founded in 1992, IIJ has built one of the largest Internet backbone networks in Japan and was the nation's first ISP. The company operates around 17 locations in Japan and five more internationally. While IIJ is primarily known as a colocation provider in Japan, the company offers modular container and micro data center (MDC) services (the latter in partnership with ZellaDC).
The company recently deployed an MDC in Iceland at a hydroelectric power station, and is planning to provide data center infrastructure to Uzbektelecom in Uzbekistan.
KDDI acquired a stake in IIJ from NTT earlier this year.