The Japan Aerospace Exploration Agency (JAXA) has deployed a new backup battery system at a ground station site in Nagano Prefecture, Japan.
NGK Insulators said the NAS batteries were deployed at the Misasa Deep Space Station (MDSS) in Saku, Nagano, last month.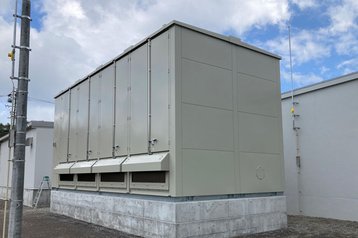 The sodium-sulfur (NAS) battery-based energy storage system has a rated capacity of 8,640 kilowatt-hours and an output of 1,200 kilowatts. NAS batteries are rated at 4,500 full cycle discharges or a 15-year calendar life.
In the event of a power failure, NAS batteries will be used to supply electric power to facilities such as the large-scale antenna. The system will also stabilize the power supply amid any instantaneous voltage drops, and also provide load balancing to the grid.
The order for the batteries was received from Meidensha Corporation as part of an upgrade to the site. NGK said NAS batteries were chosen for use because they have a track record of being set up at JAXA Tanegashima Space Center alongside high capacity and discharge time.
The MDSS site was completed in 2021 and features a 54-meter dish, built by Mitsubishi Electric, communicating with spacecraft in the X- and Ka- band frequencies. The site includes wind turbines.
JAXA also operates the Usuda Deep Space Center ground station in the Saku area, as well as tracking stations in Okinawa, Masuda, and Katsuura.
According to previous news releases, JAXA has compute facilities at its Chofu, Tsukuba, and Kakuda space centers and the Sagamihara Campus.