Juniper Networks has announced the first ever version of its network operating system to be capable of running apps and services developed by third parties.
A 'disaggregated' version of Junos opens access to its Linux kernel and can even be programmed directly using the software model developed by the Open Compute Project (OCP).
The company says this approach enables "server-like functionality" on a switch and simplifies deployment of advanced Software-Defined Networking (SDN) services.
The first switch to run the disaggregated version of the OS – the QFX5200 – is already shipping to customers worldwide.
Late last year, Juniper launched its first switch built according to OCP specifications. Even though the OCX1100 hardware is sold by Juniper, customers are free to delete Junos and install any other network OS that supports the Open Network Install Environment (ONIE).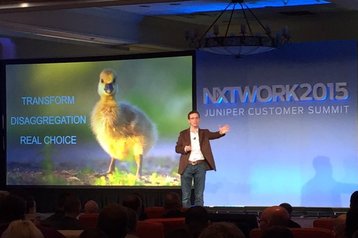 No more lock-in
Junos is a Linux-based network operating system which has been forwarding data packets since 1998 and is familiar to a generation of network administrators.
Using the disaggregated version of the OS, customers will be able to deploy third-party applications directly on the Junos platform for the very first time, through a virtual machine or application container with direct access to the kernel. Orchestration of the platform can be carried out through OpenStack, Apache, Netconf or other tools.
The disaggregated version is also available for installation on third-party switches that are compatible with ONIE.
QFX5200, the first Juniper switch to be released under the new model, contains a 1.8 GHz quad-core server CPU from Intel and 16GB of memory – enough muscle to successfully run additional services. In addition to standard 10 and 100 Gigabit Ethernet, it also supports 25 GbE and 50 GbE connections and can be purchased with or without Junos on board.
"The market for open networking using bare metal switching is giving customers an independent choice of switch OS and applications eliminating lock-in, and is expected to represent just over 25 percent of all data center Ethernet switch ports shipped by 2019, causing a transformation in data center networking and fostering innovation, bringing similar changes as experienced in the server market," commented Clifford Grossner, research director for Data Center, Cloud and SDN at IHS.
"Juniper's decision to embrace this market with a strong disaggregation strategy for both Junos and the new QFX5200 Series provides important options for its enterprise customers and targets fast growing cloud service providers."