Investment firm KKR is to acquire a minority stake in Singtel's data center unit.
Singtel and KKR have reached a definitive agreement that will see a fund managed by KKR commit up to S$1.1 billion (~US$800 million) for a 20 percent stake in the Singaporean telco's recently-formed regional data center business.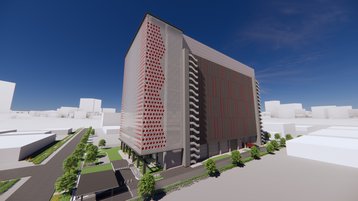 The transaction is expected to be completed by the fourth quarter of 2023, subject to regulatory approvals and customary closing conditions.
The deal puts the enterprise value of Singtel's overall regional data center business at S$5.5 billion (US$4bn). KKR will also have the option to increase its stake to 25 percent of the business by 2027 at the pre-agreed valuation.
Singtel's regional data center business is part of the Digital InfraCo unit formed in June 2023.
The portfolio currently comprises 62MW of existing capacity in Singapore, while Singtel is building a new 58MW data center in the city-state, and has also partnered with Telkom and Medco Power in Indonesia as well as Gulf Energy and AIS in Thailand to develop data centers in Batam and Bangkok respectively.
The portfolio will deliver a total combined capacity of over 155MW once the three new projects are operational in 2025, with room to scale up to more than 200MW.
"KKR's investment underscores the quality of our data center portfolio and confidence in our plans to scale the business by capitalizing on the digitalization and rapid AI adoption that is transforming this region," said Bill Chang, CEO of Singtel's Digital InfraCo.
"Our expertise in designing, building, and operating data centers, and our connectivity leadership in the region, together with KKR's strong track record in supporting digital infrastructure assets and its platform-building expertise makes for a powerful combination."
David Luboff, Partner and Head of Asia Pacific Infrastructure, KKR, said: "We are pleased to provide this tailored solution to support the regional data center platform of Singtel, one of the most longstanding and distinguished corporations in Singapore and a leading digital infrastructure provider in Asia Pacific."
He continued: "Robust digital infrastructure, including high-quality data centers, will play a crucial role in enabling Southeast Asia's flourishing digital economy, and Singapore is well-placed to serve as a central hub for the region. We look forward to working closely with Bill, Arthur, and Singtel's talented team to meet this tremendous demand, and sharing our global expertise and network to accelerate the platform's growth across the region."
KKR is a major global investor, including in digital infrastructure. Its most significant data center investments have been its $15 billion acquisition of CyrusOne in 2021/2022 alongside GIP, its backing of new European operator GTR, and its recent acquisition of liquid cooling company CoolIT alongside Mubadala earlier this year.
Neither CyrusOne nor GTR have a presence in APAC currently, but the former recently announced a $7 billion, 900MW partnership with Japanese energy firm Kansai Electric Power Company, Inc. (KEPCO) to develop data centers in Japan.