Lawrence Berkeley National Laboratory (LBNL) has released a draft Request for Proposal (RFP) for the next supercomputer at the National Energy Research Scientific Computing Center (NERSC).
NERSC-10 will be an exascale supercomputer, with 10× the performance of the current Perlmutter system, and roughly 40 exaflops of mixed precision. It is due to be delivered in 2026, but the RFP also asked for an early access test system for 2025.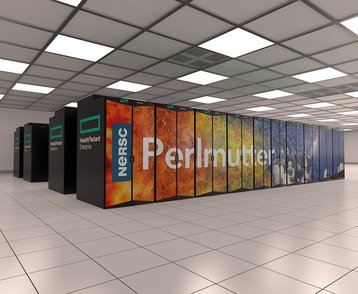 With NERSC's workload "increasingly diverse," the computing center said that it was targeting three main areas: 1) High-performance simulation and modeling workflows, 2) High-performance AI workflows, & 3) High-performance data analytics workflows.
With the draft RFP now live, offerors have been called on to pitch different processor combinations and setups. But NERSC said that it wants both CPU-only and GPU nodes, and added that "the Offeror should propose a novel AI acceleration partition that will both accelerate AI workloads and integrate within an HPC ecosystem to enable workflow capabilities."
That partition could come at launch, or be delivered later, but must be scalable.
Potential expansion for the entire system is also planned, so offerors have been asked to propose and price expansions that would provide 25, 50, 100, and 250 percent performance increases.
The RFP also notes: "The Offeror should propose non-volatile storage options (NVMe and/or SSD) internal to all node types, with at least triple the node memory capacity. Non-volatile storage performance characteristics and system software requirements to access and manage the storage should be described.
"The Offeror should propose a separately priced QoS Storage Solution, at least 80 PB in size, which shall provide storage and deterministic I/O to the system, to provide consistent performance and ensure timely results."
The supercomputer will be located at the NERSC data center in Building 59 on the LBNL campus in Berkeley, California. Set just north of the Perlmutter system, the approximate area of white space available for the system footprint and aisle space is 4,784 square feet.
As it's in a seismically active area, the NERSC-10 system will be placed on a seismic isolation floor. Racks and all components shall be maintained for earthquake accelerations up to 0.49g in any direction.
It will be cooled by water feeds from below, as well as air handlers. The primary loop facility cooling water has a supply range of 5℃ to 32 ℃ (41℉ to 86℉), a total loop flow capability of up to 16,000 GPM, and up to 20 PSI differential pressure at the system cabinet.
The subcontractor will have to provide operational ranges for water temperature, flow rate, and differential pressure at the CDU or cabinet level as it applies to the proposed systems.
The full RFP is set for Q4 this year, with subcontracts set to be awarded in Q4 2024.
Launched in June 2021, the 2.6MW HPE Cray Perlmutter system features 1,536 nodes equipped with Nvidia A100 GPUs and AMD "Milan" Epyc CPUs plus 3,072 CPU-only nodes, a 'novel' HPE Slingshot high-speed network, and a 35-petabyte all-flash scratch file system. Ranked 5th on the Top500 list of most powerful supercomputers at launch, the 70 petaflops sustained/93 petaflops max system is currently ranked 8th.