Lefdal Mine Datacenter has added 60MW power capacity to its underground data center campus in Måløy, Norway.
The company this week announced that a connection to the regional 132 kV power network has increased the available power to the data center from 20MW to 80MW; 20MW is reserved for current customers.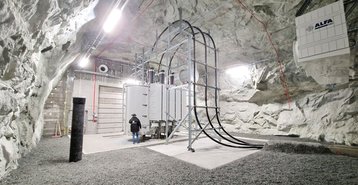 Lefdal said the sites' power capacity has been expanded in modules of 30MW transformers, placed in separate mountain halls deep inside the mountain for security purposes.
After being first announced in 2015, Lefdal opened in 2017. It is potentially Europe's largest data center, with up to 200MW, and a floor space of 120,000 sqm (1.3 million sq ft) in 75 underground halls.
Lefdal is preparing more of these empty halls for future expansions.
In 2020, Columbia Threadneedle European Sustainable Infrastructure Fund (ESIF) acquired a majority stake in Lefdal Mine Datacenter, and UBS Asset Management provided €50 million ($61.1 million) of finance over the next five years to support the expansion of the data center.
In 2021, Norway's Sigma2 supercomputer body announced that future systems would be installed at Lefdal. Daimler has also moved its HPC infrastructure to the site.