The new Leondardo supercomputer has been inaugurated in Bologna, Italy.
First announced in 2020, the €120 million ($124.5m) system is currently the fourth most powerful on the most recent Top500 list, published in November.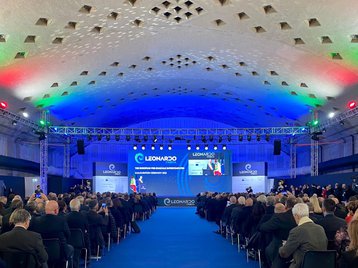 Sergio Mattarella, President of the Italian Republic, and Anna Maria Bernini, Italian Minister of University and Research participated in the ceremony. The event was also attended by Roberto Viola, Director General for Communication Networks, Content and Technology, European Commission (CNECT), and Anders Dam Jensen, the EuroHPC JU's Executive Director.
EuroHPC JU's Dam Jensen, said: "I am very pleased to celebrate the inauguration of Leonardo today, particularly after the excellent global ranking it received just a few days ago. Beyond being an incredibly powerful machine and a further step towards exascale, Leonardo's architecture also makes it a machine which will be particularly usable by a great number of European users and an important tool for European research and industry."
An Atos BullSequana XH2000 system with Xeon Platinum processors and Nvidia A100 GPU accelerators, the systems offer a sustained Linpack performance of 174.7 petaflops and peak performance of 255.75 petaflops.
It is housed at CINECA, a consortium of 112 Italian universities and public institutions that offers HPC resources to its members. It is expected to become fully operational in the first half of 2023 with an expected performance of 250 petaflops.
Francesco Ubertini, President of Cineca, said: "It is a great satisfaction for me to officially inaugurate the European supercomputer Leonardo, one of the most powerful supercomputers in the world. The result of a major investment by Europe, with the EuroHPC Joint Undertaking, and the Ministry of University and Research. It is a complex project, starting from the design of the system, configured to support a large, sustainability-oriented production capacity, to the construction of the data center that houses it, a custom-built house under Pier Luigi Nervi's vault at the Tecnopolo in Bologna."
The system is partly funded through the European High-Performance Computing Joint Undertaking (EuroHPC JU). The HPE-Cray based Lumi, located in Finland, is the most powerful EuroHPC JU system currently online, offering 309.10 petaflops sustained.
CINECA also operates the Marconi cluster – a mixture of Lenovo with an IBM accelerator module – which replaced the predecessor Fermi system in July 2016, as well as an Intel-powered IBM/Lenovo system known as Galileo from 2015. It also operates an Nvidia DGX system and n HPC cloud service.
EuroHPC JU system Daedalus coming to Greece
A hosting agreement has been signed between the EuroHPC Joint Undertaking and the National Infrastructures for Research and Technology (GRNET) in Greece.
GRNET will host Daedalus, a new 30 petaflops system. It will be installed in the historical 19th century Electric Power Station building in Lavrion Technological and Cultural Park and is expected to have an overall surface area of 1,500 sqm (16,145 sq ft).
The €33 million ($34.2m) supercomputer will be used to research areas such as engineering, chemistry, health sciences, and will be used to visualize and solve scientific problems.
EuroHPC JU will contribute up to €10 million ($10.3m) to the project, with Cyprus, Montenegro, and North Macedonia joining Greece as members of the Daedalus consortium.
Located south of Athens, the Lavrion Technological and Cultural Park was founded in 1992 in the facility of the old French Mining Company of Lavrion.
So far the EuroHPC JU has already procured eight supercomputers, located across Europe. Five supercomputers are now fully operational: Lumi in Finland, Leonard in Italy, Vega in Slovenia, MeluXina in Luxembourg, Discoverer in Bulgaria, and Karolina in the Czech Republic. Two more supercomputers are also underway: MareNostrum5 in Spain and Deucalion in Portugal.
Hungary's Governmental Agency for IT Development (KIFU), Ireland's National University of Ireland Galway (NUI Galway), and Poland's Academic Computer Centre Cyfronet AGH (Cyfronet) are all set to host further EuroHPC JU machines in the future.
Facilities in Czechia, Germany, Spain, France, Italy, and Poland are due to host EuroHPC-funded quantum computers, while Forschungszentrum Jülich in Germany is set to host the JU's first exascale system.