The London Internet Exchange will install a PoP at the VA-1 Iron Mountain Data Centers facility in Northern Virginia.
The PoP involves a switch for LINX Northern Virginia (NoVA), a stand-alone regional Internet Exchange Point, installed at the Iron Mountain facility but not directly connected back to LINX in London. LINX NoVA is currently located at three sites: Digital Realty in Ashburn, Coresite in Reston, and EvoSwitch in Manassas - this Iron Mountain move brings that number to four.
Bringing London to Virginia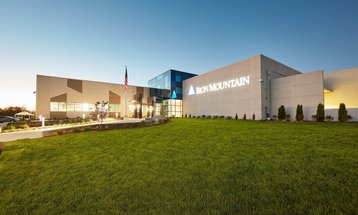 VA-1 is a 167,958 sq ft (15,600 sq m) site with an IT capacity of about 12MW, and a PUE of about 1.2-1.3. It is set on Iron Mountain's 83-acre campus in Prince William County, Manassas, Virginia.
LINX says that by adding Iron Mountain to the LINX NoVA network, both the IX and Iron Mountain benefit from the operator's connections to Data Center Alley and Linx's extensive portfolio of customers.
Jennifer Holmes, LINX CCO, said: "We are excited to be welcoming Iron Mountain Data Centers on board as a partner for LINX NoVA. This new partnership will allow their current customer base to access our peering platform and start to benefit from everything that joining LINX has to offer."
Now that LINX is on Iron Mountain's network, any of its existing customers can join LINX NoVA from the VA-1 facility and remotely via Iron Mountain's Virtual Cross Connect Service.
Frank Scalzo, director and GM of Network Strategy & Services at Iron Mountain Data Centers, said: "This partnership enables our customers to interconnect to a peering platform that creates low latency connections into the largest and fastest-growing data center market globally. Our partnership with LINX in both Northern Virginia and London is a key part of our strategy to grow the Iron Mountain Data Center ecosystem.''