LiquidStack has received investment from HVAC company Trane Technologies to further immersion cooling.
Details of the series B funding were not shared, but LiquidStack CEO Joe Capes said it will be 'significant' for the company's development.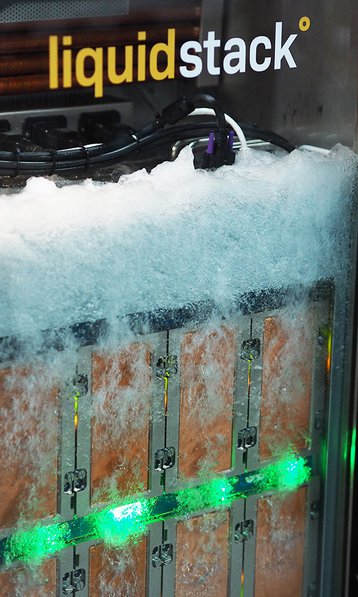 "This represents a milestone in the liquid cooling industry to see one of the big brands in our industry really stepping up to invest and participate in this really fast-growing market," said Capes. "Trane is a very well-known company and is the industry leader in HVAC and sustainability."
Founded as Allied Control in 2013 and acquired by cryptocurrency miner the Bitfury Group in 2015, LiquidStack was spun out again in 2021 and secured $10 million in Series A funding from hyperscale hardware maker, Wiwynn, with hopes that the company could provide liquid-cooling solutions for cloud data centers and high-performance computers.
The Series B investment from Trane will contribute to this goal. LiquidStack will use the funding to ramp up manufacturing and will open a new facility in the United States which will also have research and development labs. Further funds will be invested in R&D, exploring advanced dielectric fluids with fewer impacts on the environment.
"LiquidStack's unique immersion cooling technology is raising the bar for sustainable data center cooling," said Amber Mulligan, vice president of strategic sales and marketing, commercial HVAC Americas, Trane Technologies. "Immersion cooling solutions will also help achieve our bold Sustainability Commitments, which includes reducing one billion metric tons of carbon emissions from our customers' footprint by 2030 and achieving net-zero emissions by 2050."
With the increase in AI hardware and other high-density applications, the need for a more efficient cooling solution has become more apparent. LiquidStack's specialty in two-phase immersion cooling sees servers immersed in coolant fluid which boils off the heat before removing it as vapor, which once condensed can then be reused.
Coolant fluids have received significant criticism of late, due to the presence of PFAs, and were classified as 'forever chemicals' by the US Environmental Protection Agency earlier this year. The European Union is in discussion to restrict all PFAs by 2025.
LiquidStack's two-phase immersion cooling has been adopted by NTT and Standard Power, among other customers.