Kuwait-based logistics real estate firm Agility has announced plans for a series of data center campuses across the Middle East and North Africa.
Agility Logistics Parks (ALP), which develops industrial and logistics real estate in the Middle East, Africa, and South Asia, this week announced the launch of four 'tailored, master-planned data center campus sites' in Saudi Arabia, Kuwait, Egypt, and Ghana.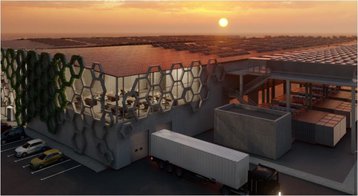 The company said the sites are being readied at ALP's existing parks with power allocation, fiber connectivity, and building permits.
The first set of campuses are within ALP parks in Riyadh, Saudi Arabia; Kuwait; Cairo, Egypt; and Accra-Tema, Ghana. The company said it expects to add sites in other markets in the future including Nairobi, Kenya; Casablanca, Morocco; and Lagos, Nigeria.
Ronald Philip, senior director at ALP, said that the company was "uniquely poised with a portfolio of ideal sites" across the Middle East and Africa.
"We have a strong track record of development in challenging markets, a healthy balance sheet, and the in-house engineering capability to meet the technical specifications of hyperscale data center operators," he said. "Based on feedback from several operators, we believe we can support them and accelerate their deployment through our data center campuses."
In Riyadh, ALP has 25MW and 82,000 sqm (882,640 sq ft) available for development within the 870,000 sqm Agility Logistics Park. More than 10MW is available through the park's rooftop solar deployments on existing warehouses.
In Cairo, the company is offering 15,800 sqm (170,070 sq ft) with 25MW, expandable to 45MW within the company's 270,000 sqm East Cairo Logistics Park.
In Tema, the company proffers 87,650 sqm (943,450 sq ft) and 30MW, expandable to 150MW, within the company's 165,000 sqm logistics park in the city. All three sites offer solar power, while Tema also has hydroelectric power available.
ALP's Philip said that in Kuwait the company's site offers an existing 80MW sub-station alongside 15MW on solar capacity. The property is allocated for two 46,000 sqm (495,150 sq ft) data center plots with a capacity for expansion to more than 100,000 sqm (~1 million sq ft). The site is based in a 1.3 million sqm commercial and industrial zone opening in 2024.
ALP currently operates some 1.5 million sqm of warehousing and 12 million sqm of industrial land across 12 countries. The unit is owned by the Agility Public Warehousing Company, founded in 1979 as the state-owned entity Public Warehousing Co.; the parent company, listed on the Kuwait Stock Exchange, also operates major aviation services provider Menzies Aviation and other logistics & transportation units.
Stephen Beard, global head of data centers at Knight Frank, said: "We have strong feedback from our global clients that Agility's value proposition in challenging emerging markets will help them with faster speed to market with a credible, institutional developer as a partner."
ALP is the latest of a number of logistics & warehouse industrial real estate firms looking to move into the data center space. The likes of ESR, Prologis, GLP, Segro, P3, and others are also looking to develop facilities in the US, Europe, and the Asia Pacific region.
Some are developing in partnership with existing operators - ESR is working with Stack, while Prologis has partnered with Skybox in the US - and some like GLP are seeking to become operators themselves.