Data center professionals are being told that automation techniques are the answer to all their problems. The DCD>Zettastructure event on 7-8 November in London, will convene a squadron of experts to cut through the hype and evaluate whether AI, robotics and automated data center resources can help accomplish more in the data center with fewer resources. 
"Automation technology has the potential to revolutionise data centers, with everything from interconnection to power deliver controlled in software, enabling hyperscaler-like levels of efficiency, speed and flexibility" says David Hall, Senior Director Technology Innovation at colocation provider Equinix, who will be speaking at the DCD>Zettastructure in Old Billingsgate this November.
AI makes smarter data centers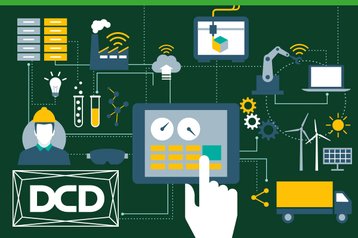 Advances in DCIM, artificial intelligence and robotics are making a profound impact in the data center already. However the reality of embracing new technologies is still a challenge for many operators, who have to assess the risks and costs of any new direction.
According to a Gartner research report, AI and deep learning applications will become important factors for data center design and architectures by 2021. However, will AI offer tangible business solutions and outcomes for data center operators?
"Hyperscale operators, such as Google and Facebook, use AI and machine learning to mitigate disasters, increase efficiency, and lower energy usage in their data centers. We want everyone to have this capability," says Cole Crawford, CEO and Founder of edge computing platform company Vapor IO. "We're building AI and machine learning software to make these capabilities mainstream. Soon, operators of all sizes will use this advanced technology for monitoring and operating data centers, both at the core and at the edge of the network."
"As we move into an era of edge computing and look to support low-latency IoT and 5G wireless, we need to make orchestration decisions across thousands of locations in milliseconds. This is an impossible task without AI," adds Crawford.