Meta has acquired more than 500 acres of land in a data center park in Kansas City, Missouri.
BizJournal reports that the company has bought the remaining land in Diode Ventures' Golden Plains Technology Park, where the social media firm is already developing a 1 million+ sq ft data center campus.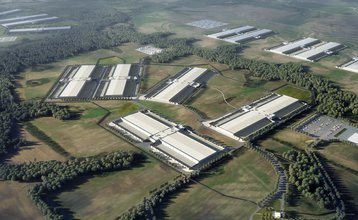 Plans for a Golden Plains Technology Park (also known as Project Velvet) were first submitted in 2020.
Local developer Diode Ventures, a subsidiary of Black & Veatch, was aiming to develop up to 5.5 million square feet (510,000 sqm) of data center construction with 16 buildings built in three zones. The park is being developed on more than 760 acres of undeveloped land along Platte and Clay Counties to the north of the city, located at the southwest corner of the intersection of N.W. 128th Street and US Highway 169. The campus would reach full operational capacity in 2032.
Meta was then reportedly due to occupy more than 375 acres of the campus, with plans to eventually develop three buildings on the park. The social media firm then confirmed the news, saying it was planning to spend more than $800 million developing a 1 million sq ft (92,900 sqm) facility in the Golden Plains Technology Park set to be operational in 2024.
BJ reports, however, that Meta has since acquired the remaining 508 acres, essentially taking over the entire park.
In December 2021, Meta bought about 278.5 acres in Platte County property parcels. And in December 2022, the company acquired the balance of the technology park, totaling 229.8 acres in Clay County. Financial details were not available.
"We have purchased land adjacent to our original site in Kansas City," Meta spokeswoman Melanie Roe told the publication. "We occasionally purchase available land in the event that our future business needs may require it. We currently have no plans to build on this land."
Diode is also looking to build more data center parks in the area. Last year the company filed a preliminary plan for Rocky Branch Creek Technology Park, a data center campus that would occupy 359 undeveloped acres it controls northeast of US Highway 169 and Interstate 435 in Missouri. A plan approved by the city in October 2022 would see up to 12 data centers developed, totaling 4.31 million square feet (400,400 sqm).
Diode also has plans for a third potential campus in the area; it is in the early stages of evaluating Hampton Meadows, a third, smaller data center conceptualized for 30 acres the company owns south of Golden Plains, between I-435 and Cookingham Drive.
Many of Meta's data center developments have recently been paused or even scrapped entirely amid a 'rescoping' of facility designs for AI workloads. Almost a dozen projects are thought to be affected, with an expansion in Odense in Denmark canceled entirely and pauses to projects in Kuna, Idaho; Huntsville, Alabama; and Temple, Texas.