The Meta-led 2Africa cable has made landing in two MTN cable landing stations (CLS) in South Africa.
MTN South Africa and MTN GlobalConnect announced this week that the 2Africa cable has landed in Yzerfontein and Duynefontein, South Africa. Both locations are to the north of Cape Town on SA's western coast.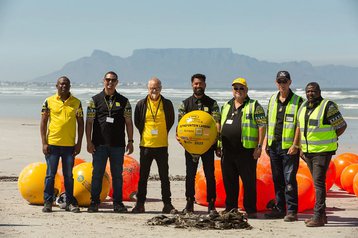 Meta, along with Telecom Egypt, China Mobile International, MTN GlobalConnect, Orange, STC, Vodafone, and the West Indian Ocean Cable Company (WIOCC) announced the 2Africa cable back in 2020. At 45,000km, it is the world's largest subsea cable and is set to connect 33 locations at 46 locations across Africa, Europe, and Asia once it's complete.
This landing is the first in a series of six with MTN across five countries for the cable: As well as the two in South Africa, the cable is landing at MTN facilities in Sudan, Cote D'Ivoire, Nigeria, and Ghana.
The Yzerfontein landing will support the 2Africa West cable, due to go live in 2023, and the MTN South Africa landing station in Duynefontein will support the 2Africa East cable, due to go live in 2024.
MTN Group President and CEO Ralph Mupita said: "Strategic partnerships such as the one we have with the 2Africa consortium will help us accelerate and deepen internet adoption and socio-economic progress across the African continent. Data traffic across African markets is expected to grow between four- and five-fold over the next 5 years, so we need infrastructure and capacity to meet that level of growth and demand".
MTN GlobalConnect CEO Frédéric Schepens added: "MTN GlobalConnect is pleased to participate in this bold 2Africa subsea cable project. The initiative complements our terrestrial fiber strategy to connect African countries to each other and the rest of the world. We are building scale infrastructure assets to meet the explosive growth in data traffic and accelerate the digital economy on the continent, by creating a pan-African fiber railroad driving affordable connectivity."
2Africa's cable recently landed in Barcelona at AFR-IX Telecom's new CLS. It also recently landed at Ras Ghareb, Egypt in partnership with Telecom Egypt, which said another landing point is expected in Port Said in the Mediterranean Sea in the coming months. It has also previously landed in Genoa, Italy; and Djibouti City, Djibouti.
The cable's Middle East & Asia extension, known as 2Africa Pearls, is set to land at Airtel's CLS in Mumbai, India.