G42 and Microsoft are offering a sovereign cloud in the UAE.
The companies this week announced plans to jointly offer sovereign cloud services in the UAE as well as expand Microsoft's existing data center infrastructure in the country.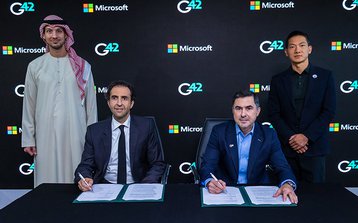 The two firms also said they would develop and deliver "advanced AI capabilities."
Microsoft said its sovereign cloud offering will allow UAE public sector and regulated industries to gain access to cloud and AI features on Azure securely and in compliance with local privacy and regulatory requirements, especially around sensitive data.
G42 said its understanding of UAE sovereignty requirements and technical capabilities will help customize the offering to help address customers' specific needs.
The partnership will also see Microsoft expanding its Azure services footprint in the UAE via Khazna Data Centers, a joint venture company between G42 and e&.
Peng Xiao, Group CEO of G42, said: "This strategic collaboration with Microsoft isn't just about technology; it's about creating a holistic ecosystem for societal resilience and growth. We aim to not only transform industries but also create positive economic opportunities and lasting impacts on the well-being of individuals, communities, and society as a whole."
Judson Althoff, EVP and chief commercial officer at Microsoft, added: "Microsoft's partnership with G42 will empower customers across the public sector with next-generation AI solutions. With data privacy, security, and compliance as our core priorities, we have a unique opportunity to help organizations responsibly innovate for the benefit of citizens and residents across the UAE."
Microsoft has previously announced plans for a sovereign cloud in Singapore. In 2021, Orange and Capgemini launched France-based cloud company Bleu to sell Microsoft Azure services from local data centers.
Microsoft has a Dubai Azure cloud region in the UAE launched in 2019. Its Abu Dhabi region, launched at the same time as Dubai, has since been de-listed and may have been converted into a reserved access zone. The company is also working on developing a cloud region in Israel.
G42 and Microsoft announced a partnership in April 2023, saying they could collaborate on the development of public sector and industry-focused solutions that leverage "Microsoft's partner ecosystem and cloud capabilities."
Samer Abu-Ltaif, corporate VP and president for Central and Eastern Europe, Middle East, and Africa at Microsoft, said: "By strengthening our collaboration with G42, we are supporting the UAE's vision of empowering individuals and businesses to innovate AI solutions that not only drive sustainable economic growth, but also tackle ongoing challenges in our communities."
The likes of Oracle and Google both have dedicated sovereign cloud offerings to cater for European markets, the latter in collaboration with local partners.
Google has partnered with T-Systems in Germany, Thales in France, and Proximus in Belgium and Luxembourg. A leaked report suggests Google views its trusted partner cloud initiative as its "most important program" and believes it can corner a $100 billion market in Europe and Asia via data sovereignty-compliant clouds.
Khazna currently operates nine data center sites across the UEA, with six more under development and one planned in Egypt. The number of facilities under the company significantly increased after the merger with G42 and Etisalat Group, first announced in October 2021. The merger between the three made Khazna the UAE's largest data center provider.