Microsoft has officially announced plans to develop a new data center campus in Sydney, Australia.
The news comes after it recently dropped plans for a six-story data center in another area of the Australian city, and work begins on a second building at an existing campus.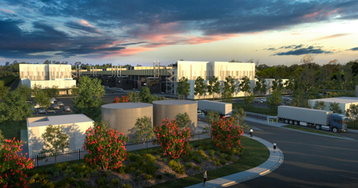 Microsoft officially announces Kemps Creek campus
Microsoft announced last week that its data center site at Kemps Creek in Western Sydney had hosted a Land Acknowledgement with members of local Indigenous tribes.
Indigenous-owned Indigital brought Microsoft together with members of the local Dharug Nation to shape the site's exterior artwork and landscape design in a way that "supports cultural connection and inclusion."
Steven Worrall, managing director at Microsoft Australia and New Zealand, said: "We have a strong commitment to deep learning in Indigenous ways of being, knowing, and doing. In the spirit of collaborating and listening, Microsoft is proud to work with Indigital and Dharug Nation Traditional Custodians to reflect Indigenous connection to Country at our Kemps Creek Data Centre."
Indigital trained a machine learning algorithm using traditional imagery of the Dharug Nation to create culturally-recognized patterns and imagery that will be reflected in the site's exterior artwork and landscape design.
Dharug woman, Traditional Custodian, and Knowledge Holder Julie Bukari Webb said the project ensured Indigenous ways, traditions, and perspectives don't get lost in new builds.
"I'm really proud of how we've come together in love and unity to create a lot of joy and understanding," she said.
Microsoft first filed to build the Kemps Creek campus in November 2021. The $1.3 billion campus will span 14.4 hectares and see two two-story data center buildings developed. The buildings will offer 65,355 sqm (703.465 sq ft) across around 96MW, with the potential to expand to 190MW and at least one more building.
The Australian Financial Review reports the company gained construction approval for the project in June. Construction is reportedly set to start in the coming months.
"The demand signal is incredibly strong, hence the massive investment we're making to build this data center," Worrall told the publication.
The campus will be built by AW Edwards and located in the Mamre Road Precinct, a new industrial estate being developed by Frasers and local fund manager Altis Property Partners in New South Wales.
Lane's Cove project plans dropped, Seven Hills construction on track
Microsoft has also dropped plans for another Sydney campus at Lane Cove in Sydney's lower north shore.
The company was planning a six-story facility there, but the ARF reported it decided not to proceed with the development after the local council only allowed for a smaller facility.
A short statement on a Microsoft Community page from February said: "Microsoft has made the decision to no longer proceed with the Lane Cove data center development at 706 Mowbray Rd West, Lane Cove North."
The property was reportedly acquired for $63m from VIMG (Vic Investments Management Group). According to NSW government documents, the 40MW data center would have had 11,340 sqm (122,040 sq ft) gross floor area. Lane Cove Council granted deferred approval for the demolition of the existing buildings on the site in April 2022.
Evans and Partner technology analyst Paul Mason recently said in a note that Australian players such as NextDC have historically been better than Microsoft at getting council approval, thanks to having more local knowledge on how to handle councils and the lead times associated with procuring utilities.
Microsoft has recently received approvals to build another data center along Station Road in the Seven Hills area of Sydney.
According to Microsoft, FDC Construction nearly completed the construction of the first of the two data center buildings on site, with the construction estimated to be completed by July 2023. Taylor Construction will start works on the second data center building in June 2023 and is expected to be completed by late 2024.
Microsoft currently operates three Australian Azure cloud regions in New South Wales, Victoria, and Canberra; the first two regions opened in 2014, the latter in 2018.