Microsoft has opened two new data centers in Cape Town and Johannesburg which will give South Africa faster access to Azure Cloud.
The twin data centers will be Microsoft's first in Africa. The company is following Huawei which made its cloud service available in Johannesburg yesterday.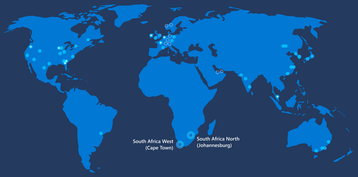 Better late than never
The company had previously promised that the data centers would be online by the end of 2018, but Microsoft failed to live up to this goal and has not given a reason for the delay.
Azure Cloud is available now, but Cape Town and Johannesburg residents will have to wait a while before Microsoft's other applications are ready in the area.
Office 365, Microsoft's cloud-based productivity solution, is anticipated to be available by the third quarter of 2019, and Dynamics 365, the company's cloud business application, is anticipated for a fourth quarter release.
Speaking at a launch event in Johannesburg, corporate VP of Azure Networking, Yousef Khalidi, said: "The availability of Microsoft's cloud services delivered from Africa will mean local companies can securely and reliably move their businesses to the cloud while meeting compliance requirements,"
Having a local data center would certainly suit the needs of companies and agencies who want to keep their data within the country's borders.
Already African bank NedBank has signed on with Azure, Microsoft cited in a blog how the service 'provides compliance technologies that assist Nedbank to increase data privacy and security which are primary concerns of its customers, regulators, and investors.'
Similarly eThekwini Water, a unit of the eThekwini Municipality in Durban, South Africa, responsible for the provision of water and sanitation services for more than 3.5 million residents has agreed to use Azure for its reporting and monitoring applications.