Microsoft may be building a large data center in Newport, Wales, according to local news reports.
The cloud giant is believed to have bought a one million square foot (92,900 sqm) factory, previously occupied by Quinn Radiators, a company that went bust in 2019, according to a report on Business Live.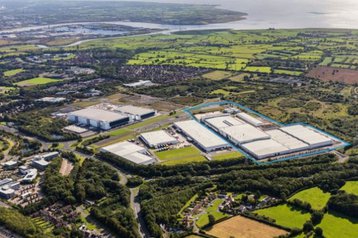 The building is located virtually next door to Vantage's Newport campus - and both were factories for Korean firm LG Electronics till it pulled out of Wales 20 years ago.
Microsoft is understood to be one of the major customers at Vantage, renting a whole suite there exclusively.
DCD has asked for more details on the unconfirmed report, which says that property firm JLL has been marketing the building, and 40 acres of surrounding land. JLL declined to comment on whether Microsoft was taking the building.
JLL had previously sold the building and leased it back to Quinn Radiators, in 2018, according to the company's 2018 Wales report. Quinn went into liquidation suddenly in 2019, with the loss of nearly 300 jobs.
There are no planning applications for the site on Newport's planning website, so it's not known if any new owner would be demolishing the building, or refurbishing. On its neighboring plot, Next Generation Data (NGD) moved into a former LG factory, and NGD's new owner Vantage, is now expanding that.
In July 2021, Newport City Council granted planning permission to convert the site into five separate businesses.
Update: Microsoft has issued the following statement: "Microsoft has been investing in data centers in the UK for more than six years and we believe there is a great opportunity for Microsoft's cloud services to support local business growth and innovation. We don't have anything definitive to share at this time, but can confirm we are committed to supporting digital transformation in the UK with the Microsoft cloud."
More in Cloud & Hyperscale