Moscow Exchange (MoEx), the largest exchange group in Russia, has completed the first stage of the project that will see its servers moved from legacy facilities into a Tier III certified data center.
For now, DataSpace1 will be used as a disaster recovery site for the Exchange's trading and clearing platforms. At the end of November 2016, the organization expects to complete the move, at which point it will become the primary data center, while one of its current facilities will switch to disaster recovery functions.
Switcheroo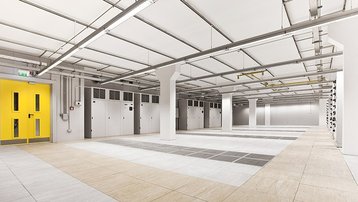 Moscow Exchange operates trading markets in equities, bonds, derivatives, currency, agriculture and precious metals. It currently operates two data centers in Moscow: 'M1' as a primary data center and 'Kislovsky' for disaster recovery.
DataSpace is a carrier-neutral colocation provider founded in 2009 to offer a higher quality of data center services to Moscow-based organizations.
The four-floor DataSpace1 facility is the first - and so far the only - data center in Russia to have completed the full cycle of Tier III certification from the Uptime Institute. It was opened in 2012, offers 9.5MW of power capacity and is located just 15 minutes away from the Red Square.
In 2014, MoEx said that it chose DataSpace due to the physical security of the location, operations expertise and Tier III Gold rating, which guarantees a high level of redundancy across all components.
MoEx expects that the new facility will allow it to upgrade its network architecture and improve service quality offered to its clients.
Following the move, the M1 data center will become a temporary disaster recovery site, while Kislovsky will be closed for renovation, to reopen at the end of 2017. At that point, Kislowsky will once again take over disaster recovery duties while M1 will be demoted to a Point of Presence (PoP).
The exchange has asked its customers to take into account the migration schedule and consider it while planning development of their technology infrastructure in 2016-2017.