Singapore-based Internet Service Provider (ISP) MyRepublic this week rolled out what it says is the world's first self-provisioning plug-and-play wide area network (WAN) service. MySDN Cloud VPN is an enterprise WAN solution to deliver business-grade networking between multiple branch offices, which MyRepublic says can be rolled out in a matter of hours or days instead of the weeks or even months that traditional WAN offerings can take.
Under the hood, the service is based on software-defined networking (SDN) technology from Nuage Networks that Nokia gained from its €15.6 billion acquisition of Alcatel-Lucent last year. Separately, CenturyLink in November also announced that it had chosen technology from Nuage Networks for its Programmable Services Backbone (PSB) network architecture.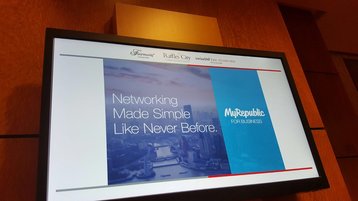 SDN for the mases
According to a briefing conducted by MyRepublic, setting up the MySDN Cloud VPN service entails shipping a Network Services Gateway (NSG) appliance to each branch location where they are installed as the Internet gateway. Management of the WAN consisting of all NSG appliances will be from a central control panel hosted by MyRepublic on redundant infrastructure at Equinix and Global Switch data centers in Singapore.
The key appeal of the service is how it lets organizations with multiple branch offices or retail outlets to provision their own service, which the company thinks will turn WAN deployment on its head. Moreover, network configurations such as firewall rules and complex network policies are configured centrally and pushed out to deployed NSG appliances automatically.
"We're proud to take the lead in bringing the proven benefits of SDN to the market, and to do so on a regional scale," said MyRepublic CEO Malcolm Rodrigues in a statement, "With MySDN Cloud VPN, businesses can be launched in locations that were once impossible. Enterprises can open remote offices in days instead of months. The impact is extraordinary."
Because MySDN Cloud VPN works over standard Internet access technologies, competitors are likely to argue that it will not deliver similar levels of reliability and performance as offerings that are based on MPLS or IPLC.
The million-dollar question, of course, is whether the reliability offered by MySDN Cloud VPN is "good enough" to entice businesses to make the switch. Interestingly, the NSG device can be configured to support two WAN ports, which can be set up in either Active-Passive or Active-Active mode to boost reliability over two separate Internet links.
MySDN Cloud VPN is available to customers across the region, including Singapore, Indonesia and New Zealand. No pricing information is offered at launch, though the company says it will be more affordable than existing WAN solutions.