US storage hardware company NetApp is expanding its quad-level cell (QLC) flash storage offering.
Alongside the introduction of the new NetApp AFF C-Series, a mid-range all-flash storage system, the company is also announcing the arrival of NetApp Advance, a new portfolio of programs and guarantees for data storage.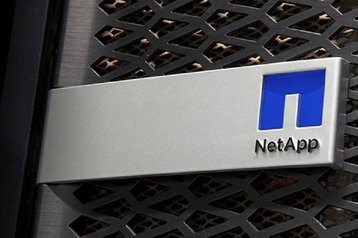 NetApp AFF C-Series is a family of different storage solutions, comprised of the AFF C250, AFF C400, and AFF C800, all of which offer scalable flash storage on-premises along with a license for NetApp's software suite, Ontap One.
QLC flash memory is the highest capacity of flash storage available, with four bits of data stored per flash cell. According to the company, the C-Series will be available from March 2023 and will reduce the total cost of ownership through its cost-effectiveness and efficiency, as well as reduce the physical storage footprint.
"NetApp has been a flash storage leader for years, and today's announcements of the AFF C-Series and A150 build on that legacy of innovation to bring our customers and partners some of the most affordable and sustainable all-flash storage in the market today," said Sandeep Singh, senior vice president, enterprise Storage at NetApp.
"As companies are looking at their bottom line in this economic environment, we want to meet their needs by providing capacity flash at a lower cost to entry in order to better enable their transition from hybrid storage to all-flash while staying within budget."
While the C-Series is mid-range, NetApp also offers a mission-critical high-performance storage system with the NetApp AFF A150. A third entry-level solution is on offer which, according to the company, would be appropriate for workloads generated by mid-sized companies with remote offices or distributed deployments.
"In today's budget climate, we're seeing three main requests from customers," Singh said. "The most mission-critical high-performance flash storage requirements, for which AFF A-series is targeted. Then there are the lower-cost options with hybrid flash – SSD and hard drives – and the FAS line. Now we also have the C-series with QLC flash, so customers can choose SSD for speed with the economy of hybrid flash."
NetApp offers subscription upgrade NetApp Advance
Yesterday was a busy day for NetApp announcements. The company has also released NetApp Advance, a subscription upgrade that provides a portfolio of programs designed to cost-effectively future-proof on-premises data storage.
Part of NetApp Advance, the NetApp Storage Lifecycle Program works to 'evolve the storage lifecycle' in that it enables 'ongoing, non-disruptive hardware upgrades'. Users can upgrade storage controller technology at three, four, or five-yearly intervals for free, and can remotely manage software updates including non-disruptive Ontap upgrades. The program can be used with both on-premises and cloud storage solutions.
Singh said: "NetApp Advance brings peace of mind to forward-looking organizations in need of storage solutions that can adapt and scale as their business changes and grows."
"With NetApp Advance, we're offering customers the confidence that their storage investment today will provide the flexibility to meet their hybrid cloud needs for the future."
The LifeCycle Program introduces the option for organizations to trade in their controllers for full credit toward their choice of NetApp cloud solutions, a second program dubbed the NetApp Cloud Advantage Program.
The company is also taking its commitment to sustainability seriously. Through the 4:1 SAN Storage Efficiency Guarantee, the company agrees to rectify at no cost if workload efficiency goals are not met, as well as the Sustainability SLA for NetApp Keystone customers. According to the company Keystone will, from Q1 2023, 'provide a standard Watts/TB for each SLA-based performance level, with service credits available if those targets are not met'.
NetApp has plans to introduce a sustainability dashboard for NetApp BlueXF customers in Q1 of 2024 which should provide a holistic view of organizations' power, energy, and heat usage.