US data center firm Netrality has acquired LifeLine Data Centers' facility at the Indy Telcom Center campus in Indianapolis, Indiana.
Netrality last month announced the acquisition of Lifeline Data Centers' 733 West Henry data center on the campus. Terms of the deal were not disclosed. Lifeline previously announced it was exiting the Netrality-owned site last year after a dispute over rent increases.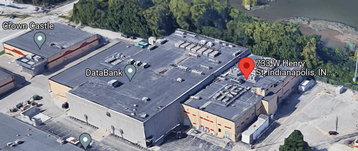 Netrality said it will continue to provide colocation services within the 30,000 sq ft (2,800 sqm) facility and is expanding interconnection services in the facility to include access to the meet me room in Netrality's 701 West Henry data center.
"We are thrilled to acquire Lifeline's colocation assets within Indy Telcom Center," said Gerald M. Marshall, Netrality Data Centers CEO. "Netrality is committed to the long-term growth and enhancement of our campus. We will continue to invest and upgrade the facility to ensure that we meet the evolving needs of our clients."
Netrality Data Centers acquired Indy Telcom Center, a carrier hotel provider in Indianapolis, in July 2021. It subsequently acquired 365 Data Centers' facility on the campus in April 2022. The terms of either deal were not disclosed. The 9-acre campus on West Henry Street houses 205,000 square feet (19,000 sqm) across 11 buildings dedicated to both wholesale and powered shell tenants as well as fiber customers. DataBank also has a facility on the campus.
In mid-2022, Lifeline announced it was exiting the site at the end of its lease on December 31, saying that Netrality was increasing its rent by 300 percent and 'pushing the company out'.
Netrality subsequently said it was merely offering market rates for a new long-term lease on par with other clients at the site and was aiming to buy Lifeline's business at the campus.
"It should be made clear that Lifeline's soon-expiring lease has been in place for over 15 years without any escalation in the rental rate and is, therefore, outdated and well below the market rate of rent for a data center like the one existing at 733 W. Henry Street," Netrality said at the time.
Kurtz & Revness, P.C. served as legal counsel for Netrality Data Centers. Taft Stettinius & Hollister LLP served as legal counsel for Lifeline.