IT service provider New Continuum Data Centers has acquired the data center it was using from its previous owner, CenterPoint Properties.
New Continuum began leasing the building at 603 Discovery Drive in West Chicago, Illinois, in 2013, redeveloping the site over the course of two years so that it could support colocation services. Last year, the company expanded further, adding 350 tons of extra cooling capacity.
Real estate bridge lender and investor Post Road Group provided the senior debt financing for the acquisition.
Continue on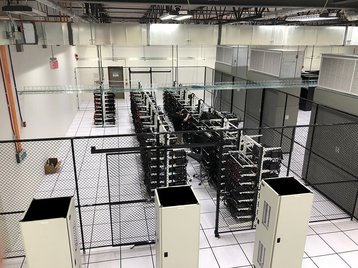 "We are excited about providing New Continuum capital to finance the acquisition of this data center. We look forward to working with the New Continuum team as they continue to execute their business plan," Jason Carney, managing director of Post Road Group, said.
Eli D. Scher - founder, chairman and CEO of New Continuum - added: "This is a major milestone for New Continuum. When we began this re-development project, it was always our objective to eventually own the underlying real estate asset as well.
"With this transaction completed, we can now begin the next chapter in New Continuum's evolution as an owner and operator of this critical data center."
The facility totals 80,000 square feet (7,432 sq m), of which half is raised floor space. The company offers full and partial racks in either N or 2N power configurations, single phase or 3-phase, with densities in excess of 20 kW/rack.
New Continuum appears to be targeting not just the traditional data center customers, but also blockchain businesses, joining the Enterprise Ethereum Alliance (EEA) and noting in a recent blog post that "blockchain applications should not be seen negatively as detracting from a data center's value, but rather positively as defining it. If colocation providers can be flexible to offer reduced power resiliency, in high-density footprints, it will be more readily consumable by blockchain applications."