Hull City Council, UK, is cutting electricity consumption in its data center, using a high-performance cooling system developed in the University of Hull.
The high-performance dew point cooling system, has saved the council £50,000 ($67,500) in electricity used by its cooling system and reduced the council's carbon footprint by 82.5 tonnes of CO2 equivalent greenhouse gas (GHG) emissions per year.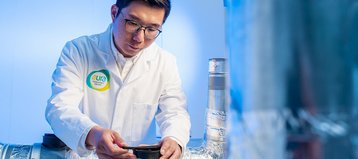 The dew point cooling system, developed at the University's Centre for Sustainable Energy Technologies, improves on conventional evaporative cooling systems, producing cold air at a lower temperature than the wet bulb temperature of the inlet air.
The technology was tested at the University's Aura Innovation Centre in the Yorkshire town of Hessle, before the test was extended to Hull City Council's data center.
Dew Point Cooling: 15 years of work
"This project is the culmination of 15 years of work at the University, developing the technology to a point where we could demonstrate its potential at our own Aura Innovation Centre," said Dr Zishang Zhu, senior research fellow at the University of Hull. "After the success of that pilot project, the next step was applying the same technology to Hull City Council's data center. The savings, both in carbon emissions and cost, have been hugely impressive.
"We have now been able to demonstrate, in a real-world environment, the potential this cooling technology has. It can offer enormous benefits to companies, both from an environmental and financial point of view."
Dew point evaporative cooling allows air to be cooled below the wet bulb temperature and even approaching the dew point, where water would condense out of the air. Academic research has indicated it can provide more effective cooling, in a small footprint and flexible installation forms. Within cooling research, it has become "the main direction of evaporative cooling technology", according to a paper in Energy and the Built Environment, by Junjie Chua and Xiang Huang.
Dr. Zhu says the technology can lead to an 80-90 percent reduction in electricity consumption and carbon emissions compared to traditional cooling systems.
To cool the Aura center's computer room, Dr. Zhu installed two 4kW dew point coolers, and collected data for a month between early August and early September. The system saved some 38.6kWh of energy per day.
At Hull City Council's data center, the test ramped up to a 100kw cooling system. The project lasted till the end of October, when funding ran out, but during that time, the system produced an 80 percent reduction in electricity consumption for cooling of the building, saving the council £149 ($200) per day in electricity cooling costs – equivalent to £54,000 ($73,000) per year.
"Hull companies and organizations are leading the way when it comes to green technologies and innovation," said Councillor Rosie Nicola, portfolio holder for environmental services at Hull City Council. "As a local authority, we are committed to championing new green technologies and putting them into practice ourselves. I'm delighted that we have been able to work with the University of Hull on this project which demonstrates not only that green innovation works, but also how it can significantly benefit us."
With a successful trial completed, the team, led by Professor Xudong Zhao, is seeking further funding to continue the work.