Next Generation Data (NGD) has announced three new custom data halls at its giant data center near Cardiff, all to be complete before Christmas.
An un-named public cloud software providre has taken two 2MW halls, expanding from a £10 million 2MW hall it took possession of during an NGD expansion at the end of 2015. Meanwhile, an anonymous US bank has commissioned a 1MW data hall, according to a release from NGD.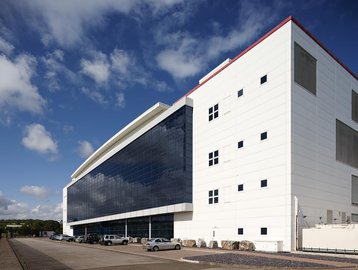 NGD is expanding within a giant 750,000 square foot (79,000 sq m) building originally created as an electronics factory, and which uses hydroelectric power from nearby plants in Wales.
With other deals in the pipeline,the company says it has now sold 22 data halls and filled almost 40 percent of the building.
"Expansion onto the first floor is now imminent," said Simon Taylor, chairman of NGD. Hybrid cloud and high performance computing (HPC) demands are pushing organizations to move from their own data centres to large colocation facilities, he said: "We have the economies of scale and power available to meet their high density needs much more cost-effectively than they can achieve in-house or by using smaller colo operations."
NGD's data centre opened in 2009, and French investment firm Infravia Capital Partners bought a majority stake in the company in 2016.