Norwegian ammunition company Nammo says that it was unable to expand its factory because a new TikTok data center has taken up the available surplus power.
Earlier this month, data center company Green Mountain announced that it would build three buildings with 90MW of capacity by November 2023, with the option to extend capacity by up to 150MW by 2025.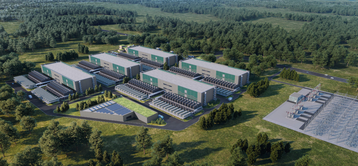 With data centers consuming more power, and grids around the world struggling to connect them and other industries, such incidents are increasingly disrupting construction plans.
Last year, housing projects in West London were put on hold due to grid capacity issues, while data center connections were put on hold in Virginia due to a lack of transmission capacity.
TikTok, meanwhile, has long planned to increase its European data center capacity. In addition to latency considerations, it plans to keep its European user data within the continent as part of 'Project Clover,' to assuage Western governmental fears about the Chinese company's access to data.
In the US, it has 'Project Texas,' a similar effort but in partnership with Oracle.
Despite the length of time it takes to set up a data center project, the long history of data centers having to share limited power infrastructure with other industries, and the fact that Green Mountain would have led the site selection, Nammo has suggested a more nefarious explanation is behind the data center's existence.
"I will not rule out that it's not by pure coincidence that this activity is close to a defense company. I can't rule it out," CEO Morten Brandtzæg told the Financial Times, with the company's sales booming as it supplies Ukraine in its war against Russia.
"We are concerned because we see our future growth is challenged by the storage of cat videos."
Just as TikTok is not primarily used for cat videos, it is highly unlikely its data center strategy is part of an effort to impact Ukraine's war effort.